Big Island Hawaii Attractions

Hawaii attractions that are unique to the Big Island are as numerous as they are extraordinary, with more to see and do than on any of the other Hawaiian Islands.
Ocean Adventures
Many of the best Hawaii attractions are underwater. Humpback whales are part of our 'ohana, and whale watching in Hawaii is a thrill for the entire family.
Humpback whales travel thousands of miles every winter to breed here. While various whale species reside in the waters off of Hawaii, you are most likely to see the impressive Humpback whale between December and April.
Swimming with dolphin: Watch dolphins play close to shore, and if you are lucky you might even find yourself swimming with them! Some of our favorite snorkeling spots offer the best chance for a close encounter. Or sign on with one of the "swim with dolphins" boat tours.
Most who experience the Manta Ray night snorkel (or dive) will tell you it is one of those things everyone must do at least once! You will be entranced as you witness these graceful creatures dancing under the sea.
Discover the magic world of seahorses at the Ocean Rider seahorse farm. 
---
Unique Valleys and Big Island Beaches
On the north side of the island along the Kohala Coast, the overlooks at Waipi'o Valley and Pololu Valley are simply breathtaking. Pololu is one awesome Hawaii hike - not overly strenuous, simply spectacular. Even if you opt to not hike into the depths, the views from the top make this Hawaii attraction well worth the drive.
Keep an eye out for another of the amazing sea creatures that inhabit the Big Island, the adorable Honu, or Green Sea Turtle. They are frequently found in many of the tidepools around the island or resting in the sand along some of the Big Island beaches. Turtles are particularly fond of Punalu'u Black Sand Beach near the southern tip of the island. Because the Green Sea Turtle is an endangered species, please keep your distance on the beach and in the water.
On the theme of "green", not far from Punalu'u you will find Papakolea Green Sand Beach. This unique green sand beach near South Point is a magical spot that is definitely worth exploring.
---
Hawaii Parks & Monuments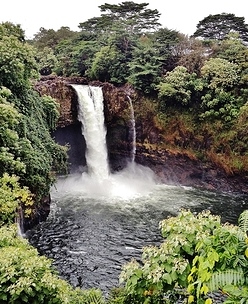 On the Big Island alone there are fourteen Hawaii State Parks, Monuments, and State Recreation Areas, offering everything from lush rainforest waterfalls (Wailuku River and 'Akaka Falls State Parks), to the mesmerizing old growth forest of Lava Tree State Monument. 
Throw in five Hawaii National Parks and historic sites, and you have a wealth of Hawaii attractions just waiting to be explored.
Hawaii Volcanoes National Park is of course full of amazing sights, including the remarkable Thurston Lava Tube and the Kilauea Caldera overlook that offers a close-up view of the gas cloud emanating from the bubbling crater. The highway in and around the Park is one long series of scenic drives, with fantastic hiking opportunities as well.
Pu'uhonua o Honaunau National Historical Park south of Captain Cook sits on the southern edge of Honaunau Bay. This well preserved sanctuary of Hawaii's past provided refuge for ancient Hawaiians. Visitors will appreciate its soothing energy.
Honaunau Bay itself is most well known for Two Step, with some of the very best Hawaii snorkeling. You might even find yourself snorkeling with dolphins, as this bay is a favorite hangout for Spinner Dolphins. Give yourself at least half a day to take full advantage of Pu'uhonua o Honaunau and all the attractions of Honaunau Bay.
Kaloko-Honokohau National Historical Park is a delightful area to explore along the coast north of Kailua-Kona. With nice hiking, beautiful beaches, ancient fishponds and many historical artifacts, this park is one of the more popular Hawaii attractions on the west side of the island.
Pu'ukohola Heiau National Historic Site is the location of one of the last major traditional sacred structures built in Hawaii. This temple played a critical role in King Kamehameha's ascending to ultimately rule over all the islands. Located near Kawaihae and Spencer Beach.

From kayaking to snorkeling to hiking to beach combing, Kealakekua Bay has it all! With the Captain Cook Monument to the north and Napo'opo'o and Manini Beaches to the south, there is plenty to explore.

---
Other Interesting Hawaii Attractions
We just love the Pana'ewa Rainforest Zoo & Gardens south of Hilo, the only natural tropical rainforest zoo in the US. It is home to more than 80 animal species, as well as a colorful array of tropical plants and flowers. Easy to reach right off of Highway 11, just a few miles south of Hilo. Zoo admission is free.

For you ornithologists, Mauna Kea Forest Preserve offers some excellent bird watching opportunities. Pack your binoculars and come along in search of unusual native tropical birds of Hawaii, like the brilliant red 'I'iwi and 'Apapane, the endangered Palila, the specatular 'Amakihi, the robin-like 'Oma'o (found only on the Big Island), the songbird 'Elepaio, and the elusive Akiapola'au. You will visit both rainforest and dry forest habitats as you are introduced to the Big Island's wide variety of bird species. Your expert local guide knows the birds by ear and will show you the best viewing locations. This tour involves moderate hiking with plenty of good photo opportunities as you pass through several climate zones throughout the day. A MUST for any bird lover!
Located on the outskirts of Waimea, Parker Ranch is the home of the Paniolo, or Hawaiian cowboy. One of the largest cattle ranches in the country, they offer daily trail rides through the magnificent mountain scenery around their ranch.

Looking for something else? It might be on another page on our site. Try searching for it here:
Custom Search
---
What's Your Top Big Island Attraction?
Whether in the ocean or on the Island, there are so many amazing attractions! What's your favorite? Everyone has a story! Won't you please share yours?
---
Like This Page?