Manini Beach Park
Manini Beach is one of the beautiful and secluded south Kona beaches, directly across Kealakekua Bay from the Captain Cook Monument. South of the boat launch at Napo'opo'o, Manini Kapahukapu Beach Park is a peaceful place to relax during the week, with fabulous views of the Kealakekua cliffs and the Captain Cook Monument across the water. This is a perfect place to enjoy the wonders of Kealakekua Bay away from the crowded tour boats and hordes of kayakers at the monument.
While the beach is mainly comprised of small bits of lava rock and coral, there is a sandy shoreline area cutting through the reef that offers easy ocean entry, with good snorkeling and SCUBA diving when the ocean is calm.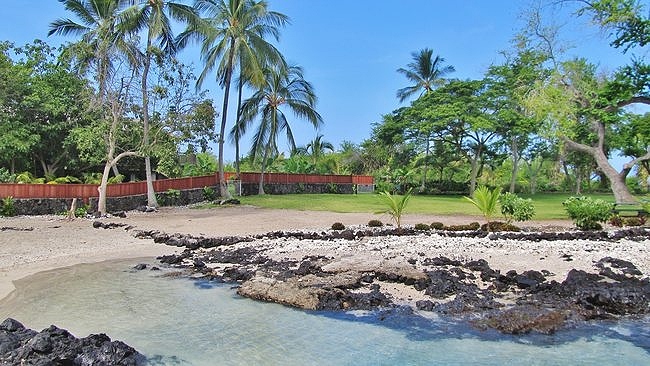 Visibility is usually pretty good for snorkeling toward the right side of the channel. The left side can be decent as well, but there are more ocean swells and waves that can make the water choppy. Stay out of the water if the bay isn't calm. In addition to your own safety, turbulence and waves stir things up and limit visibility as things get murky under the water.
Some interesting outcroppings of a'a lava extend into Kealakekua Bay here and make for fun exploring. Walking along the coastline past the park we've discovered colorful bits of polished sea glass washed up on shore. Continuing around the small peninsula past the park eventually leads to Kahauloa Bay, a popular spot for shore diving.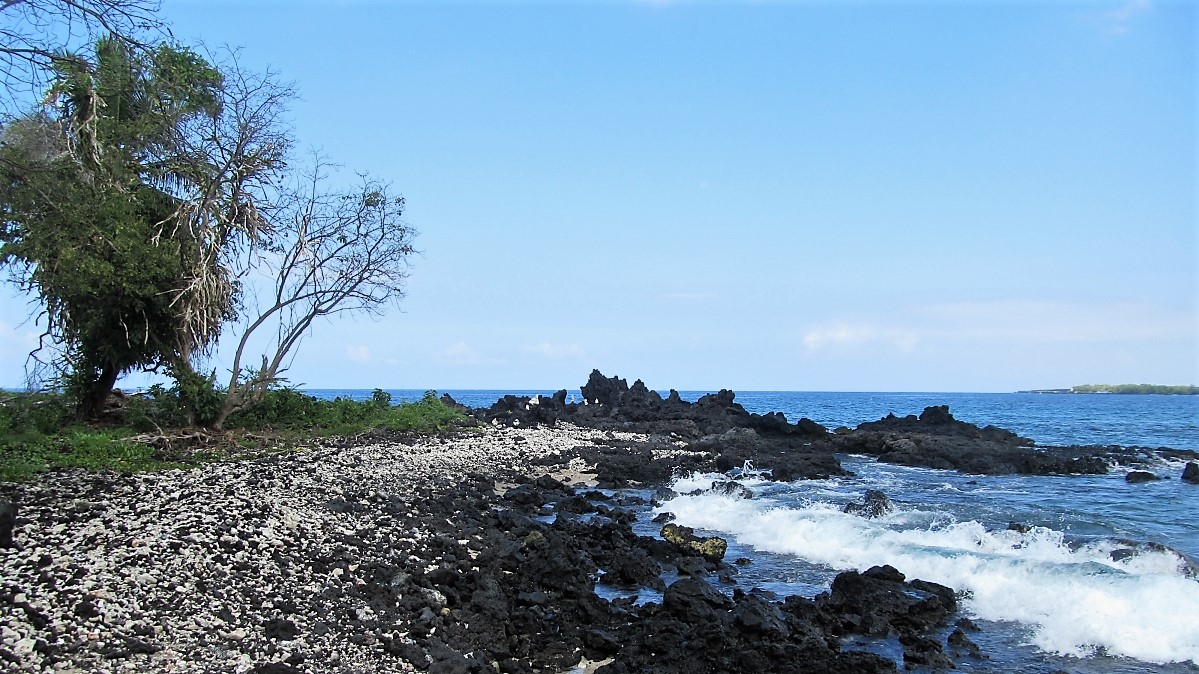 The park and beach at Manini are quite pleasant, particularly during the week when it is uncrowded. One of the popular guidebooks discounts Manini as another "must-miss" beach. Not sure what he saw but we respectfully disagree! The offshore scenery is breathtaking and the smooth sandy area at water's edge that opens to the bay is fun for kids to frolic in. The park itself provides a shady spot for relaxing in the grass, with plenty of room to spread out on a blanket or beach chair, or enjoy a picnic at one of the picnic tables.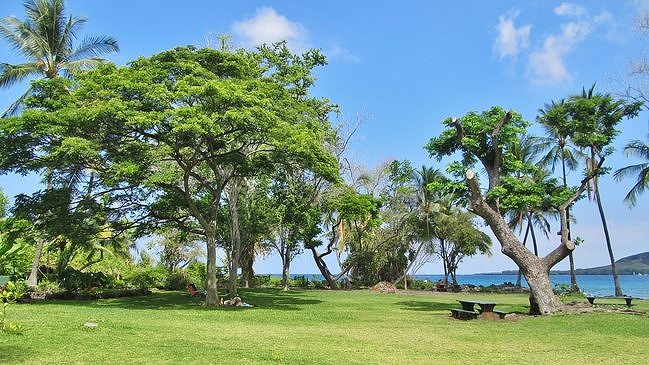 Getting to Manini Beach
Manini Park is adjacent to Kealakekua Bay and very close to Pu'uhonua o Honaunau National Historical Park.

Traveling on Highway 11, turn onto Napo'opo'o Road (Hwy 160) just south of the 111-mile marker. In about 3 miles (5k), turn right to stay on Napo'opo'o Road, continuing 1.7 miles (2.7k) to Kealakekua Bay. Turn left onto Pu'uhonua Road (still Hwy 160). Just a few hundred yards south of the Kealakekua Bay boat launch, turn right onto Manini Road.

Please respect the fact that this is a residential area and heed the No Parking signs. For divers, there is easy access to Kahauloa Bay just down the street from Manini.

What's your favorite Big Island beach? We're always curious what our readers have to say. 
Share your own story, maybe even a photo or two. We'll publish it right here for other readers to enjoy.
---
---
Like This Page?

Return from Manini Beach Park to Hawaii Beaches Page
Return to Explore The Big Island Home Page