Hawaii State Parks On The Big Island
With 14 Hawaii State Parks, State Monuments and State Recreation Areas on the Big Island, there is much to discover! Exploring them all reveals some of the best of Hawaii: stunning beaches, gorgeous shoreline vistas, awesome snorkeling, tropical rainforest waterfalls, historic Hawaiian villages and temples, dramatic evidence of historic lava flows and the subsequent new growth forests, and even peaceful mountain retreats.
'Akaka Falls is one of the most spectacular Hawaii waterfalls, plunging 422 feet into the gorge below. North of Hilo, enjoy this scenic .4 mile loop trail through lush tropical vegetation, with an overlook of Kahuna Falls along the way. Restrooms and drinking water available. Park entrance fee is $5/car.

Kealakekua Bay is the location of the first extensive contact between Hawaiians and Westerners. What's even more impressive is the stunning water clarity and impressive coral reef, making it one of the best places for Hawaii Big Island snorkeling. Restrooms, picnic pavilion and drinking water available at Napo'opo'o.
Kekaha Kai State Park on the Kohala coast combines pristine sandy beaches with both rugged and scenic hiking along the Ala Kahakai trail. The trail leads 4.5 miles (7.2 km) from Mahai'ula Beach north to Manini'owali Beach (Kua Bay), passing across Makalawena Beach. 

Kiholo Bay is a real treasure, one of the Hawaii State Parks that we hope every visitor has a chance to enjoy. The stark, lava covered coast contrasts with the stunning colors and clarity of the water. Many Honu (green sea turtles) call Kiholo Bay home. Portable toilets are available at the south entrance to the park.

Lapakahi State Historical Park is one of the most well preserved remains of traditional Hawaiian life. The self-guided interpretive tour takes you through what was once a thriving coastal village. Brilliantly clear water along the shoreline at Lapakahi State Park means good snorkeling as well. Restrooms available. Located 11 miles (18k) north of Kawaihae on Highway 270.

This is the second of the Hawaii State Parks on the Big Island to highlight Hawaii waterfalls. If you catch it just right in the early part of the day, Rainbow Falls can be a dramatic photo opportunity. Other scenic viewpoints and areas of geologic interest in Wailuku River State Park include Boiling Pots and Pe'epe'e Falls. Restrooms, drinking water.
Hawaii State Recreation Areas
Hapuna Beach is a half-mile long crescent of soft white-gold sand, one of the most famous beaches in all Hawaii. This is a popular beach for sunbathing, swimming, snorkeling and boogie boarding. For those interested in more of a camping experience, A-frame shelter cabins on the flats above the beach can be rented for $50/night for non-residents, $30/night for residents.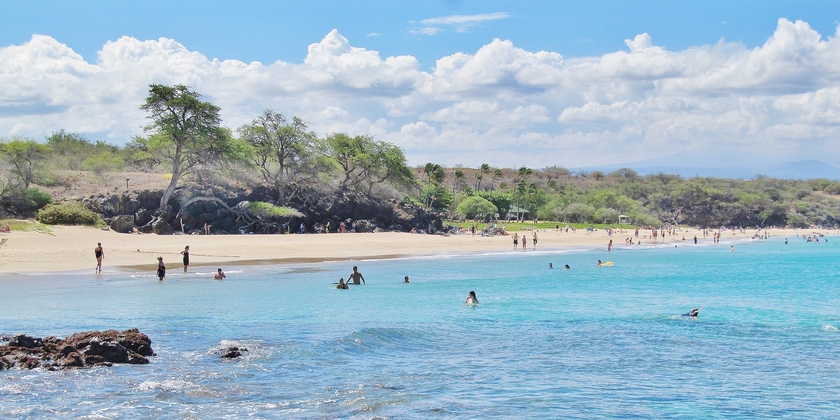 Kalopa State Recreation Area is a lush and very quiet retreat at a 2000-foot (610 meter) elevation. Tucked into an 'ohi'a forest above the Hamakua coast, the more formal name is Kalopa Native Forest State Park and Recreation Area. This is a great place for a picnic or to let the kids roll around in the grass and includes a nice nature trail. Limited tent camping ($12/residents, $18/non-residents) and cabin lodging ($60-$90/night/cabin). Restrooms, drinking water, picnic tables. Located 5 miles southeast of Honoka'a, turn off Mamalahoa Highway 19 between the 39 and 40 mile markers and follow the signs 3 miles inland.

Did the state forget that Mackenzie State Recreation Area is still part of the Hawaii State Parks system? Perhaps they've been scared off because MacKenzie has been associated with numerous grisly deaths, and is rumored to conceal the dead bodies of prisoners who worked on construction of the park in the 1850's, haunted by ghosts and night marchers. Either way, there is a creepy energy about the place. Situated along a ruggedly beautiful cliff coastline in a shady grove of ironwood trees, Mackenzie is scenic but poorly maintained. Pit toilets are essentially unusable and there's no water. Located south of Hilo along the Kalapana-Kapona Beach Road (Highway 137).

Manuka State Park (Wayside) is a cute and clean rest stop along Highway 11, 41 miles south of Kailua-Kona and 17 miles west of Na'alehu. In addition to picnicking there is a nice 2-mile Manuka Nature Trail that loops through the Manuka Natural Area Reserve. Picnic tables, restrooms, trash cans and open shelter camping next to the highway ($12/residents, $18/non-residents).

Mauna Kea Recreation Area
On the Saddle Road 6 miles west of the Mauna Kea Access Road, Mauna Kea Recreation Area is no longer a state facility but is now maintained by Hawaii County. Located in the saddle between Mauna Kea and Mauna Loa in an arid, alpine shrub environment at an elevation of 6500 feet (2000 meters), there are good views of both mountains. This is a nice place to stop when traveling between Hilo and Kona, or before you travel to the Mauna Kea summit. Restrooms and trash cans, no drinking water. Housekeeping cabins are available to rent on weekends only and they're pretty expensive - $80/non-residents, $50/residents.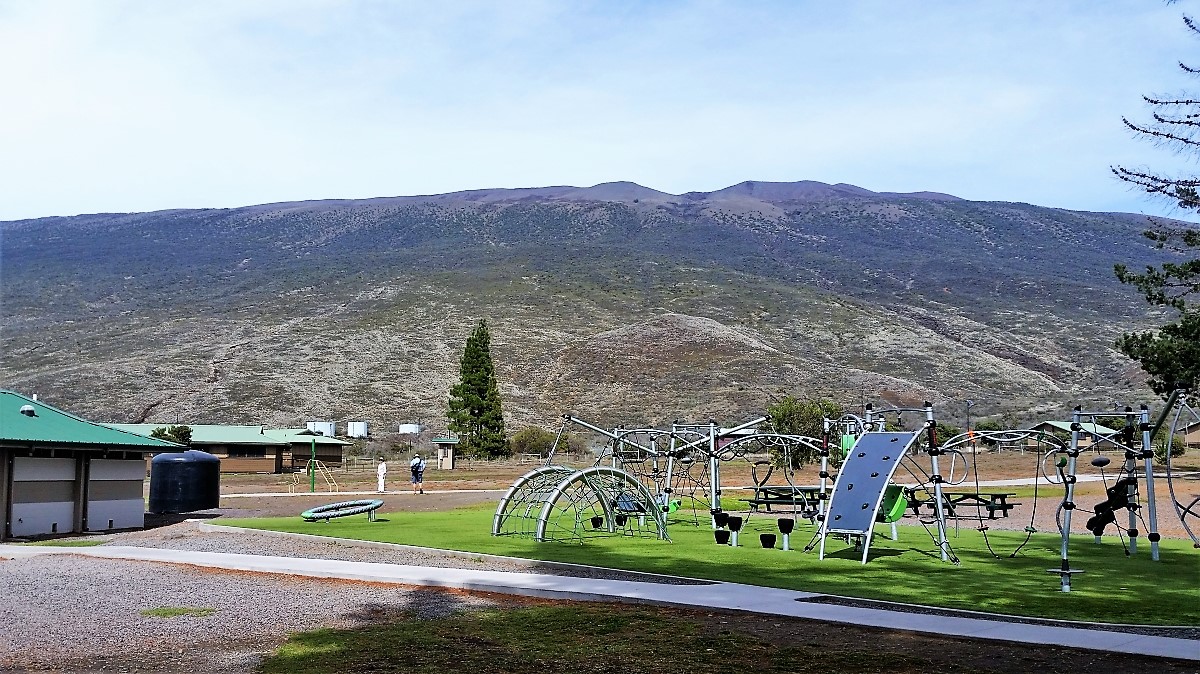 The Old Kona Airport State Recreation Area is just north of Kailua-Kona, on the site of the old Kona airport. This 104 acre beach park has a nice beach with tidepools, picnic tables and pavilions. Wander south to Keiki Ponds or north to Pawai Bay.

In the heart of downtown Hilo, Wailoa River State Recreation Area is an attractively landscaped park that is ideal for walking, picnicking or simply relaxing. The visitor center has restrooms, picnic tables, trash cans and drinking water.

Hawaii State Monuments
Lava Tree State Monument
What is perhaps most striking when you arrive at Lava Tree State Park is the massive canopy of Monkey Pod trees that filters the sun, providing shade and creating a surreal, almost otherworldly light. A paved .7 mile (1.2k) loop trail winds through an impressive collection of tree molds, left behind after a 1790 lava flow swept through the forested area. The lava wrapped the trees and then cooled, leaving only the mold after the inner tree decayed. The thick growth of the jungle-like forest is testament to nature's ability to rebound following a decimating event. Lava Tree State Monument is 40 minutes south of Hilo, 2.5 miles (4k) east of Pahoa. Restrooms, picnic tables, and trash cans; no drinking water.

Located in remote North Kohala at the northernmost point of the Big Island, Kohala Historical Sites State Monument is one of the loneliest spots on the Big Island. Believed to be the birthplace of King Kamehameha I, Kohala Historical Sites State Monument also includes the remains of Mo'okini Heiau, a human sacrificial temple that is one of Hawaii's oldest historical sites. Located 1 mile west of Hawi, 51 miles (82k) north of Kailua-Kona on Highway 270. Turn onto Upolu Airport Road and continue toward the ocean 3.5 miles (5.6k). You will reach a point where the road becomes impassable. Park and walk the last bit to the monument.

Camping in Hawaii State Parks
Sleeping in vehicles is prohibited at all Hawaii state parks and recreation areas. For campground reservations or for more information about camping  in State Parks on the Big Island, visit the Hawaii State Parks website.
Did you have a particularly memorable experience at one of our Hawaii State Parks? Do you have a favorite? Help other visitors plan their trip by sharing your experience with us!

---
Like This Page?

Return from Hawaii State Parks to Explore The Big Island Home Page