Top Things To Do In Hilo
With so many things to do in Hilo, interesting sites, places to explore and numerous Big Island attractions, give yourself at least a full day or more to explore this lush tropical paradise. There is an abundance of great sightseeing in Hilo and the surrounding area, plus many parks, restaurants and museums to enjoy.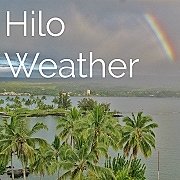 Check today's forecast
According to legend and oral history, early Polynesians began one of the first settlements on Hawaii Island in Hilo sometime around 1100 AD. Late in the 18th century, King Kamehameha I named the town Hilo.
Today, Hilo's population is around 45,000. In addition to many fine shops, restaurants and interesting attractions, it is also home to the University of Hawaii at Hilo.  The town overlooks Hilo Bay. As the wettest city in America, Hilo is blessed with lush parks and plenty of rainbows.
Lili'uokalani Park and Gardens
Beautifully landscaped in a peaceful setting, Lili'uokalani Park and Gardens sits on the edge of Hilo Bay on Banyan Drive. Named in honor of Queen Lili'uokalani, Hawaii's last reigning monarch, the authentic Japanese gardens with arched bridges, fishponds and pagodas are the largest of their kind outside of Japan. Dedicated in 1917, the 30-acre park is a tribute to Japanese immigrants who once worked Hawaii's sugar cane fields.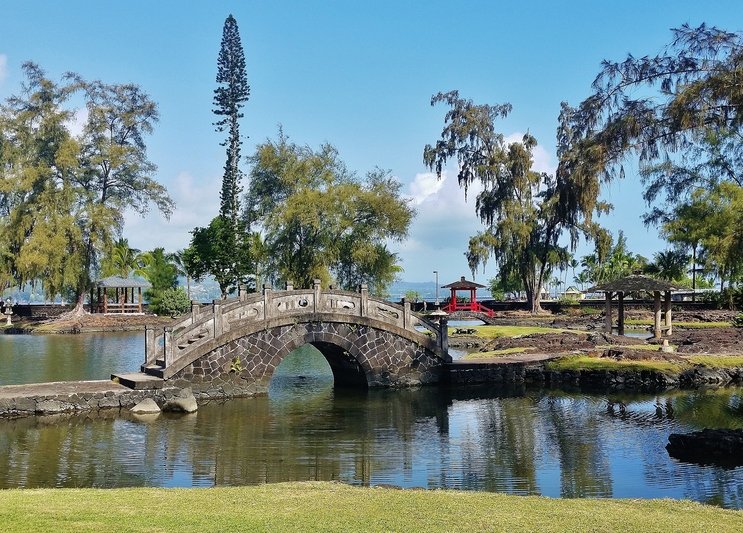 Coconut Island
Moku ola, or Coconut Island, is another scenic park adjacent to Lili'uokalani Park, and connected by a footbridge. This is a great spot for a picnic, fishing, or simply to catch a great view of downtown Hilo.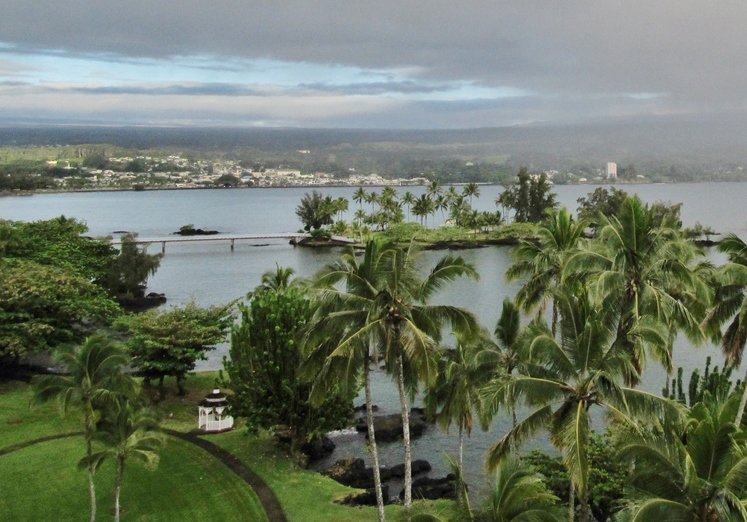 Banyan Drive
Home to the Banyan Golf Course, Lili'uokalani Botanical Gardens, and the largest hotels in Hilo, Banyan Drive is a tree lined boulevard that is famous for its banyan trees. Park the car and take a stroll down the "Hilo Walk of Fame", named for the banyan trees planted by celebrities. Banyan Drive runs along the Waiakea Peninsula that sticks out on Hilo Bay on the north side of town, east of the Hilo airport.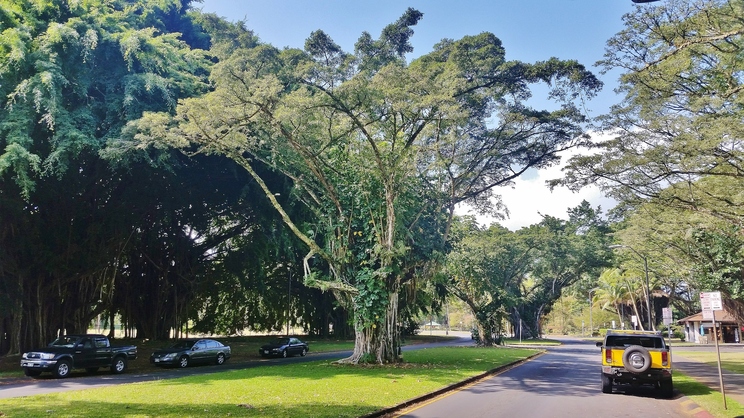 A stop at the Hilo Farmers Market is always near the top of our list of things to do in Hilo. This is one of the top farmers markets in the entire country! Try to come on a Wednesday or Saturday. With more than 200 vendors, you'll likely find exactly what you're looking for.
Kaumana Caves is an expansive lava tube that formed during an 1880-81 eruption of Mauna Loa Volcano. While impressive in it's size and length, it is less well known than it's sister Nahuku (Thurston Lava Tube) in Hawaii Volcanoes National Park, and also less crowded. Kaumana Caves County Park is located 4 miles from Hilo Bay, west on Kaumana Drive (the Saddle Road).
Right in the middle of town is the 132 acre Wailoa River State Recreation Area. With attractive landscaping, the park is a great place to enjoy walking or picnicking. Wailoa State Park was designed around the Wailoa River. Open during daylight hours. The visitor center has restrooms and drinking water available.
When you make your list of things to do in Hilo, include a trip to the beach! A series of nice beach parks stretch down a picturesque little beach street close to downtown Hilo. Spread your blanket out on the grass, swim or snorkel in one of the many tide pools or just enjoy the coastline scenery.
Paddle an outrigger canoe on Hilo Bay, or sail and paddle a traditional double-hull Hawaiian canoe, known as Wa'akaulua. Learn about the ancient art of Hawaiian boat building.
Things To Do In Hilo on a Rainy Day
'Imiloa Astronomy Center is a fascinating, hands-on science center where astronomy meets Hawaiian culture and beliefs. A really cool 3D planetarium and other fun exhibits make Imiloa a recommended stop for any "kid"! Open every day except Monday from 9-5.

The Pacific Tsunami Museum is an interesting and highly educational museum highlighting tsunamis that have impacted Hawaii and the entire Pacific region. Videos and exhibits provide an in depth look at the devastation caused as well as stories of miraculous survival. Open Tuesday through Saturday from 10-4.

The oldest wood frame structure on the Big Island was originally built for New England missionaries in 1839. Today the Smithsonian-affiliated Lyman Museum houses historical artifacts and natural history exhibits. Learn how local history, native Hawaiian culture, and the science of volcanoes are blended. Various educational programs are offered throughout the year. Open Monday-Saturday from 10-4:30.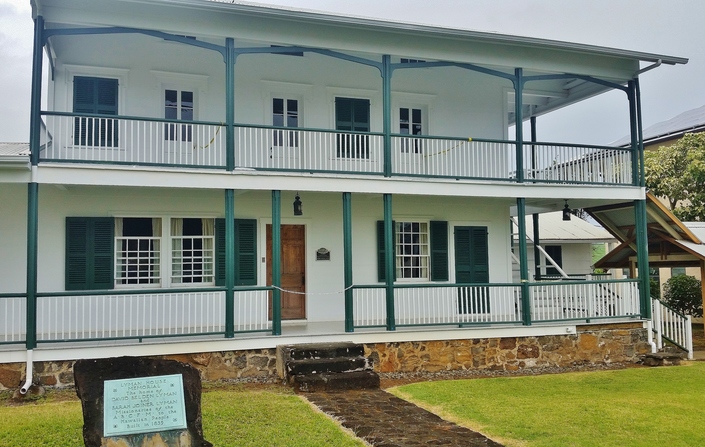 Big Island Attractions Near Hilo
Pana'ewa Rainforest Zoo and Gardens showcases an interesting collection of tropical plants, exotic animals, unusual birds, insects and butterflies. Admission is free (voluntary donation).
Due to the runoff from heavy rain on the slopes of Mauna Kea Volcano, Hilo is blessed with having a number of spectacular Hawaii waterfalls close to town. Two Hawaii State Parks are well worth a visit: Wailuku River State Park and Rainbow Falls on the outskirts of town, and Akaka Falls State Park, an easy 15 mile (24 kilometer) drive north of Hilo.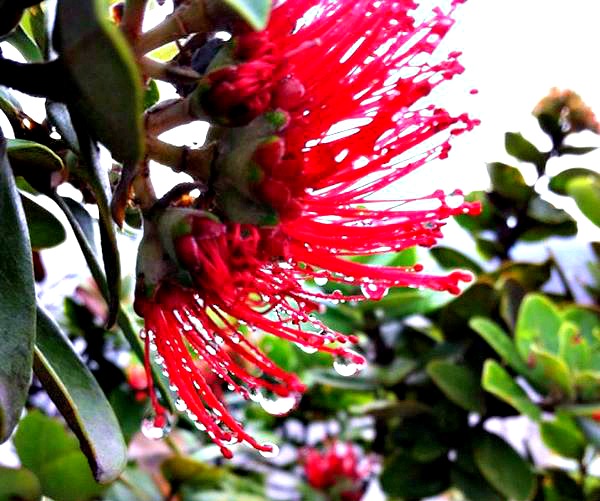 One of the greatest attractions on the Big Island, the Kilauea Volcano and Hawaii Volcanoes National Park is easily accessed from Hilo. The park entrance is just 30 miles (48 kilometers) drive from downtown Hilo. In addition to the obvious attractions of the park, lush foliage and abundant tropical flowers adorn the landscape.
Go with a guide! Check out these exciting things to do near Hilo, sightseeing tours and activities.
---
Like This Page?

Return from Things To Do In Hilo to Things To Do In Hawaii
Return from Things To Do In Hilo to Explore The Big Island Home Page