Hilo Farmers Market
The Hilo Farmers Market is widely considered one of the best farmers markets in the country, and certainly one of the best in Hawaii. A trip to the farmers market should be on everyone's list of things to do when visiting Hilo.
This is especially true if you are lucky enough to be in town on Wednesday or Saturday. These are "market days" when more than 200 vendors gather to sell an incredible variety of fresh local produce, tropical fruits and vegetables, orchids and other tropical flowers and plants, artisanal foods, handmade crafts and jewelry, works of art, and gift items.
Locals and visitors alike appreciate the large selection of items available at affordable prices in this colorful, open-air market. There are always fruits and vegetables grown in Hawaii to enjoy, and several vendors offer certified organic produce. Local tropical selections include lilikoi (passion fruit), papaya, mango, white pineapple, rambutan, apple bananas, macadamia nuts, locally grown coffee, taro and avocados. You can even drink the water from a fresh coconut! "Mainland" fruits and vegetables are also available if that is more to your liking.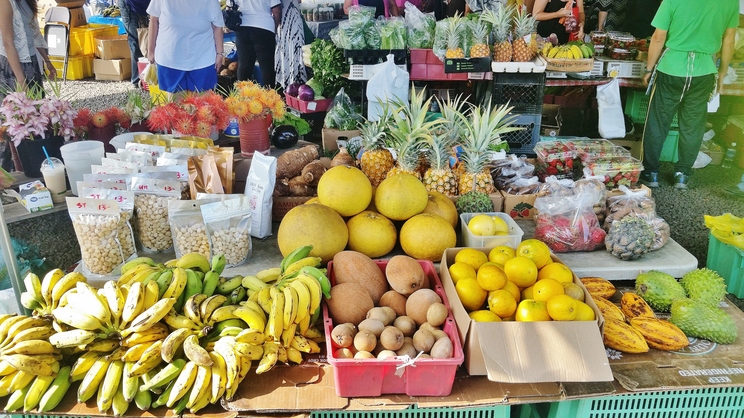 Beyond produce, there are always yummy treats and baked goods. Local artisans are as varied as the landscape, selling everything from necklaces carved from whale bone, jewelry made from precious stones and gems, Koa wood carvings, even locally designed t-shirts and sarongs. Vendors are constantly changing, making each trip to the market a new experience!
Be sure to bring the kids on the first and third Saturdays of each month. There is a free art booth that promises fun for keiki (kids) of all ages, open from 1-3pm.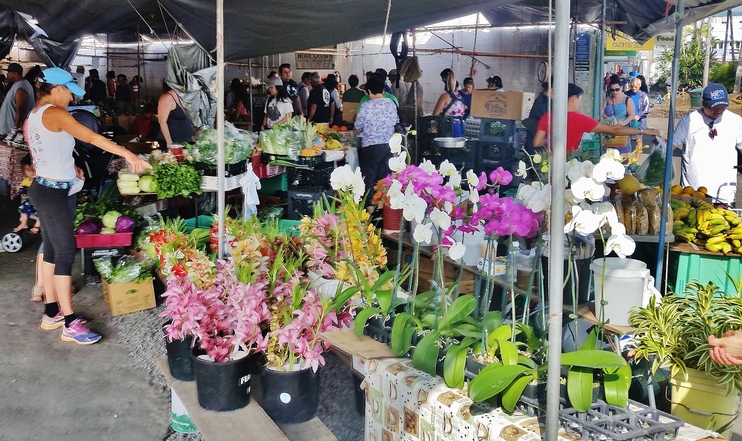 Hilo Farmers Market Hours & Location
The market is open from 6am to 4pm on Wednesday & Saturday market days. If you miss the Wednesday/Saturday market days, the market is also open on Monday, Tuesday, Thursday, Friday and Sunday from 7am to 4pm, with a much smaller selection of items available. Usually only about 30 vendors are selling their wares on non-market days.

Centrally located in historic downtown Hilo at  the corner of Kamehameha Avenue and Mamo Street, the Hilo Farmers Market is open year round. The market's central location means you can park and easily access the many other shops, restaurants, museums and other attractions in downtown Hilo. This is definitely one place that's worth a stop when you are exploring this part of the Big Island.

---
Like This Page?

Return from Hilo Farmers Market to Things To Do In Hilo
Return to Explore The Big Island Home Page