Makalawena Beach

Makalawena Beach is stunning, one of the most naturally pretty Hawaii Big Island beaches. Hidden off the beaten path along the Kohala coast, Makalawena is remote and quiet. You can't drive to it, which makes it all the more rewarding. Following a bumpy mile-long road and a 20 minute walk across lava, you are greeted by an idyllic setting of uncrowded, long powdery white sand beaches, coves, tide pools and shade.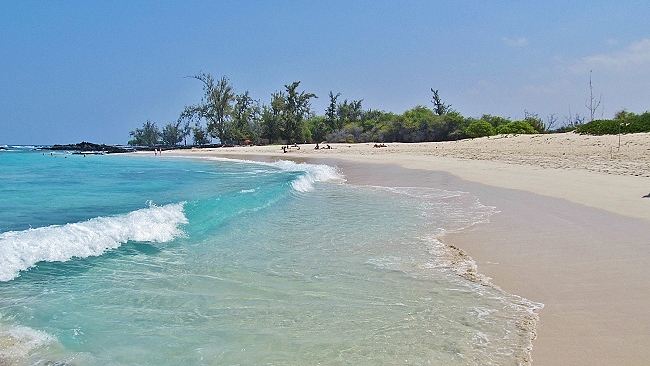 The sand is as soft and fine as you will find on any Big Island beach. The water at the shoreline is usually fairly calm but there is an abundance of lava along the edge of the shore and in the shallows, so use caution when swimming. Like many beaches along this stretch, when the wind picks up it can make for great boogie boarding.
Makalawena is a delightful place to get away from the crowds and enjoy a wonderfully scenic, peaceful day at the beach. Bring a towel, water, sunscreen, maybe a picnic lunch, and just enjoy the utter tranquility of the place.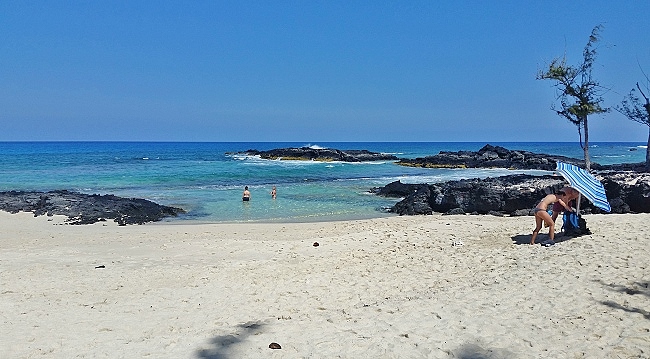 Sometimes we enjoy finding our own comfortable spot in the soft sand and just gazing out at the beautiful ocean. During humpback season (November - March) this is often a perfect place to watch humpback whales breaching offshore.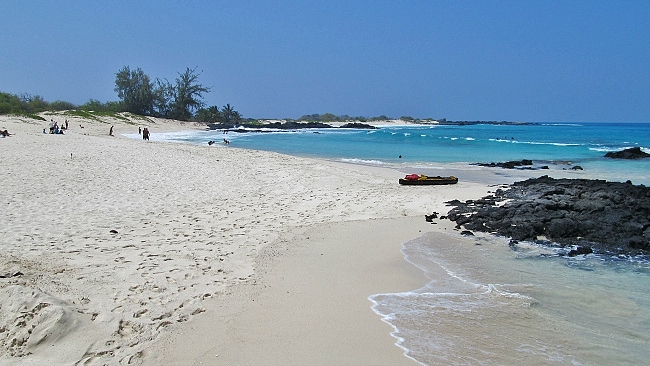 ---
Hiking to Makalawena Beach
| | |
| --- | --- |
| Access to Makalawena is at the entrance to Kekaha Kai State Park between the 90 and 91 mile markers on Highway 19. The rough and bumpy lava road to the shoreline is usually ok for 2-wheel drive, but take it slow. Park at the end of the road (about 1.5 miles/2.4 km west of the highway) and walk north a few hundred yards to another of our Big Island beaches, Mahai'ula Beach. This is a nice, quiet pocket of sand with good swimming. | |
Continuing from the north end of Mahai'ula Beach, the trail leads north toward Makalawena. Walk for about 20 minutes across a very hot, very dry, barren a'a lava field to the sand dunes behind Makalawena Beach. Be sure to bring plenty of water for this one.

If you are looking for great hiking in Hawaii and can manage a bit of a walk across the lava, we highly recommend this moderate hike. The reward is one of the most picturesque and pristine beaches anywhere on the Big Island.

An Alternate Hike To Makalawena
If you don't want to risk taking your vehicle on the rough road, look for a turn-out makai of Highway 19 (the ocean side of the highway), between mile markers 88 and 89 and just a little way south of the entrance to Maniniowali Beach/Kua Bay and Kekaha Kai State Park. Park here and walk approximately 1.5 miles (2.4 km) to the shore. Makalawena will be through the trees on the left. It's a fairly easy walk but very much off the beaten path, and best if you start early in the day.
DO NOT attempt to drive on this road beyond the first 20 feet or so from the highway. This nasty lava road is more like a dry river bed than a road, with HUGE ruts and lots of holes. You will see locals bring their big trucks down this road, but you won't make it unless you have very high clearance and off road experience.
What's your favorite Big Island beach? We're always curious what our readers have to say. 
Share your own story, maybe even a photo or two. We'll publish it right here for other readers to enjoy.
---
Like This Page?

Return from Makalawena Beach to Big Island Hawaii Beaches
Return to Explore The Big Island Home Page