Swim With Dolphins In Hawaii
To swim with dolphins in Hawaii is the dream of many visitors. Fortunately dolphins can be found swimming in the waters off the Big Island year round. And they seem to like to cruise the bays at some of our favorite snorkeling spots, which is very convenient!
Your best chance of swimming with dolphins in Hawaii without chasing them around on a boat is to spend time in areas where they are known to reside. Snorkel or rent a SUP (stand up paddleboard) or kayak in one of these bays or along the coast. If you're lucky you may find yourself swimming with dolphins even when you weren't looking for them!

Generally dolphins find you, not the other way around. If they somehow sense your energy to be threatening, forget it. Remember, this is their home. Don't pursue them or try to touch them.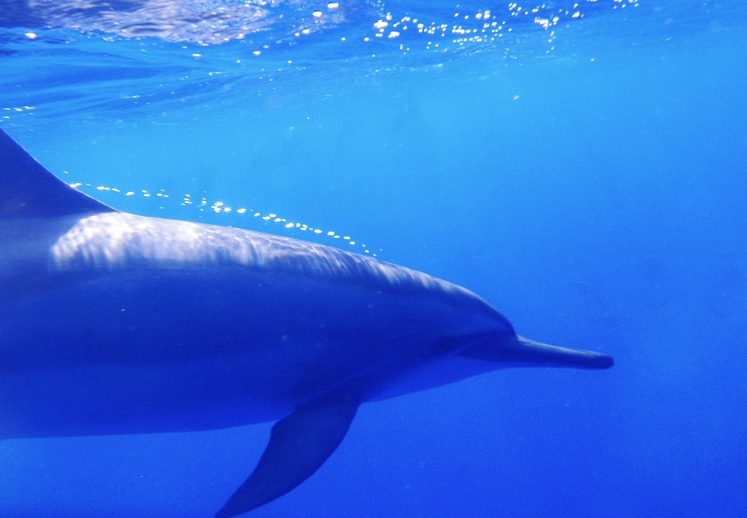 Interesting Dolphin Facts
The most common species of dolphins living in the waters off the Big Island are Spinner dolphins and Pacific Bottlenose dolphins. Bottlenose dolphins are generally found in groups of not more than 10-15 individuals. Most of these groups live permanently along certain coastlines or bays and can therefore be spotted regularly.
Of all dolphin species, the Bottlenose dolphin is the smartest. Its highly advanced cerebral cortex area of the brain lends itself to higher level thinking, problem solving and social communication.

Spinner dolphins are so named because of their acrobatic behavior. They commonly leap high out of the water and spin, rotating as many as 5 times. Groups of spinner dolphins can number in the hundreds or even thousands. They tend to feed in large groups at night, then organize into smaller groups to play and rest during the day.

On average dolphins sleep about 8 hours a day, but only for a couple of hours at a time. Since they must breathe, sleeping dolphins shut down only one half of their brain and the opposite eye. The other half remains awake at a low level of attentiveness to watch for predators, and signals when to surface to breathe. After approximately two hours the process is reversed, resting the formerly active side of the brain. During sleep a dolphin may be at rest or may swim slowly, surfacing periodically to breathe.
Dolphins use more than just their eyes to see their surroundings. By emitting sound waves from their forehead, they get an acoustic picture of their surroundings. Called echolocation, the sounds bounce off objects and the dolphins interpret the returning echo. They are also known to use echolocation to stun their prey.

---
Where to swim with dolphins in Hawaii
Often dolphins can be spotted right from shore, especially in the following prominent areas. This allows for a "dolphin encounter" without ever getting wet, if that happens to be more your style. But if it is your dream to actually swim with dolphins in Hawaii, spend some time snorkeling in one or more of these areas, especially early in the day. These are few of our favorite spots:
Sometimes the only sure way to see and swim with dolphins in the wild is to head out from shore with a guide who knows their behavior. We have a wide selection of dolphin snorkel tours from which to choose.
---
Like This Page?

Return from Swim with Dolphins in Hawaii to Hawaii Attractions
Return to Explore The Big Island Home Page