Honokohau Beach & Kaloko-
Honokohau National Historical Park
Honokohau Beach and Ai'opio Beach are part of the Kaloko-Honokohau National Historical Park, preserving hidden treasures of an ancient Hawaiian civilization. Just two miles north of Kailua-Kona, the 1160-acre park is home to many significant Hawaiian artifacts and archaeological sites, petroglyphs, trails, beaches, freshwater springs and three fishponds, providing evidence that the area once supported a sizeable Hawaiian community.
The beautiful setting along the coast makes Kaloko-Honokohau National Park a wonderful place to explore.  It is one of five National Parks on the Big Island and a great place for a relatively easy Hawaii hike, less than 1.5 miles (2.5k) from south to north.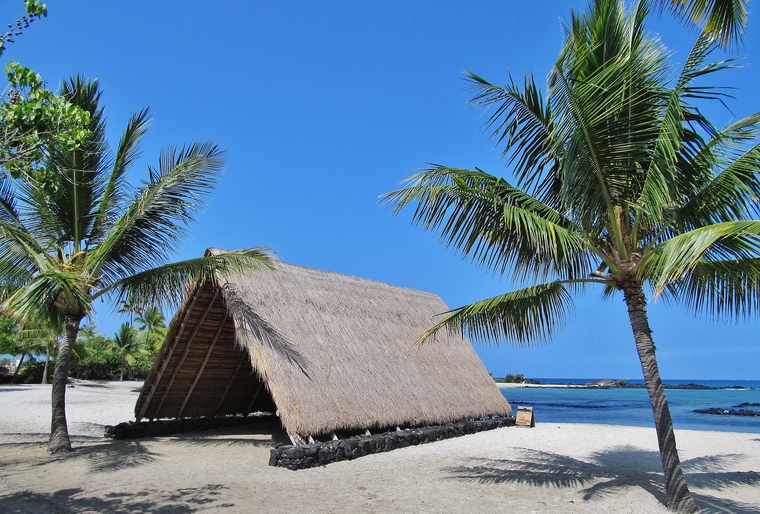 Ai'opio Beach
Ai'opio Beach is the first of the Big Island beaches you will encounter, just a short walk past the southern entrance to Kaloko-Honokohau National Park, south of Honokohau Beach. Tranquil and serene, Ai'opio Beach is uncrowded with a peaceful charm and a soothing energy. Protected from ocean surges by offshore reefs, gentle wisps of waves lap softly at the shoreline.

The cove adjacent to Ai'opio Beach is perfect for kids to romp in and is a great place to relax. We often see birds clinging to the edges of the thatched roof heiau (a well-preserved Hawaiian temple), nibbling on the dry grass.
This delightful cove is part of one of the ancient fishponds. Its design was such that fish would swim in at high tide, then find themselves unable to escape when the tide receded, making for easy pickings.
Ai'opio Beach is home to oodles of honu (green sea turtles). They love to feed on the seaweed and algae-covered pahoehoe lava here and along the shoreline north toward Honokohau Beach. Try to visit during low tide for optimum viewing and easier walking along the shoreline trail. And please, remember to keep your distance from our honu friends.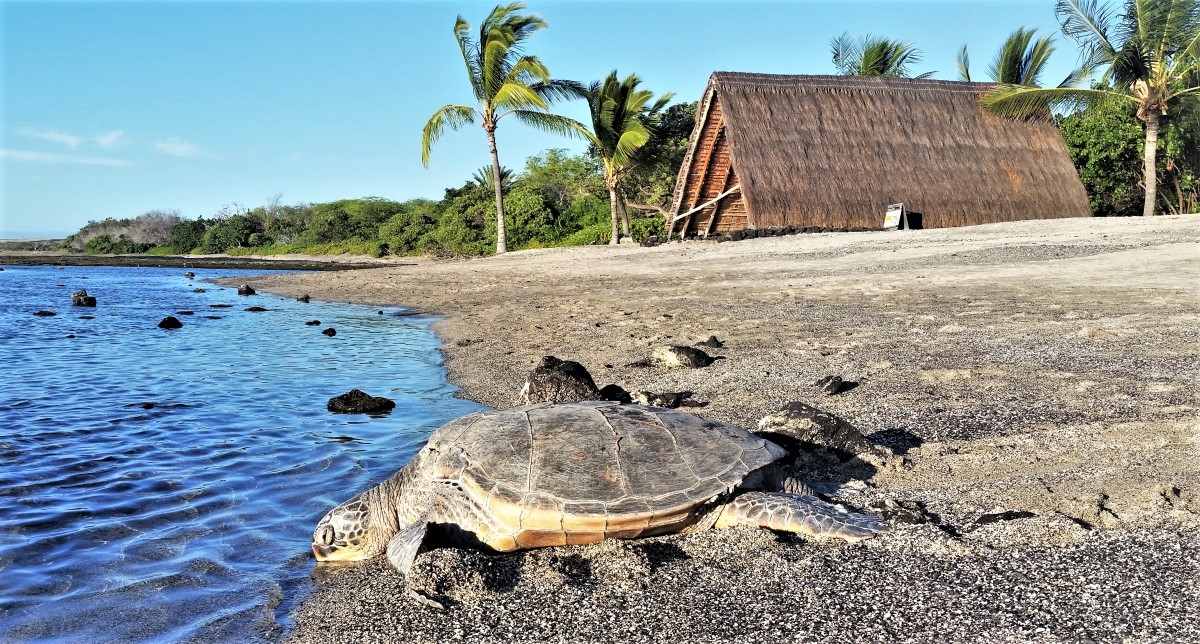 Honokohau Beach
Honokohau Beach is about a quarter mile north of Ai'opio Beach. This mixed-sand beach is a combination of crushed white and pink coral, black lava and bits of shell fragments, creating a sort of seasoning-blend appearance. A smooth pahoehoe shelf just below the waterline rims much of the shore. Also protected from strong surf by an offshore fringing reef, the swimming isn't bad. The snorkeling out along the reef can be pretty decent. Another fishpond known as Aimakapa sits behind the beach.

From the far north end of Honokohau Beach, continue north for about 3-minutes until you reach a rock wall along the path. From the southern end of the wall, a trail leads mauka (toward the mountain) and toward several large rock mounds. Behind those mounds is another Queen's Bath, a delightful smooth-stone brackish pool hidden amongst the harsh a'a lava. If you can manage to navigate the trail, this spring-fed pool makes a nice place to cool off.

Kaloko Fishpond
Continuing north another half-mile or so (800 meters) brings you to one of the real marvels of the park, Kaloko Fishpond. The massive stone kuapa, or seawall, that creates the boundary between the crashing surf and Kaloko Fishpond has been meticulously restored, using ancient methods of dry stacking the stones without the use of mortar. The pond itself is dreamy, a lush oasis teeming with life, fringed by lush parklands of healthy grasses and shrubs. Sea birds wade in the shallows, while fish fairly dance as they leap out of the water – everywhere!
Directions to Kaloko-Honokohau NHP
For easiest access to Honokohau and Ai'opio beaches at the southern entrance to Kaloko-Honokohau National Historical Park, turn into the Honokohau small boat harbor, between the 97 and 98 mile markers on Highway 19. Once on the harbor road, take the first right turn and continue to the Kona Sailing Club. Park your car and look for the National Park sign. Follow the short path to the beach.
It's possible to drive directly to Kaloko Fishpond from Highway 19, along a gravel road that starts between the 96 and 97 mile markers. Alternatively, a half-mile south at mile marker 97 is the Visitor Center, with trails leading across the open lava to the shore.

What's your favorite Big Island beach? We're always curious what our readers have to say. 
Share your own story, maybe even a photo or two. We'll publish it right here for other readers to enjoy.
---
Like This Page?

Return from Honokohau Beach to Hawaii Beaches

Return to National Parks in Hawaii

Return to Explore The Big Island Home Page