Things To Do In Hawaii
Adventures and Things To Do
On The Big Island
Favorite things to do in Hawaii? We'll show you some of the best adventures, excursions, activities and things to do on the Big Island, from stunning snorkeling and diving, to kayaking, to great Big Island hikes, horseback riding and so much more.
What's the best way to enjoy this fascinating island with all the extraordinary beaches, amazing volcanoes, and lush tropical rainforest? With so many fun things to do in Hawaii, it can be challenging to include everything in one trip! Plan ahead and pick your favorites from our long list of fun things to do on the Big Island.
Lessons or tours are available for each of the activities listed on this page. It's always a good idea to book tours in advance. There are lots of great Big Island Tours to choose from. 

Be sure to visit our Big Island Attractions page for information on ocean adventures (including dolphins and whales), the Pana'ewa Rainforest Zoo, National Parks and Hawaii State Parks, natural attractions, historical sites and other places to explore.

---
Fun Things To Do On The Big Island
from A to Z
ATV Off-Road Tours
Enjoy an exciting and informative ride through the Kohala rainforest and along the beautiful northeast coastline on a Big Island ATV tour. Trips range from 2-3.5 hours in length.
Boogie Boarding
One of our favorite things to do in Hawaii, boogie boarding is a fun and exhilarating way to enjoy the waves, and considerably easier to learn than surfing. Honl's Beach in Kona is the birthplace of the modern sport of boogie boarding. Even if you've never tried it, many of the beaches on the Big Island are a perfect place to learn, with everything from gentle surf to big waves.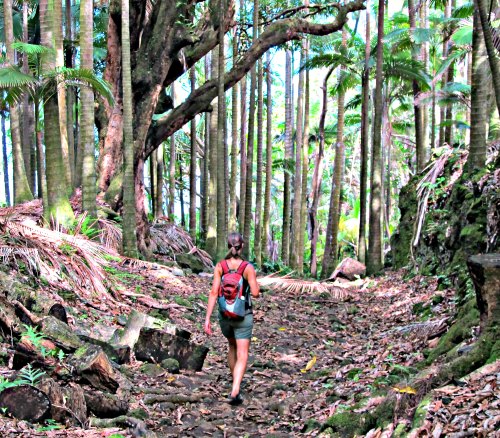 Hiking
Because of its size, the Big Island is definitely the hiking island. There are lots of scenic trails for a fabulous Big Island Hawaii hike. The hikes range from fairly easy to downright strenuous, from lush and green tropical rainforest to the barren Kilauea Iki crater, from footpaths along the Ala Kahakai coastal trail to the extreme high-altitude of Mauna Kea.
Horseback Riding
Big Island horseback riding on one of the beautiful historic ranches or along the north coast can be one of the more rewarding things to do in Hawaii. For those of you that couldn't fit your own horse in your luggage, a number of options are available for tours on the north side of the island.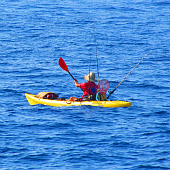 Kayaking
A kayak provides an easy ride and is one of the best ways to experience the fascinating marine life and other sights along the coast. Mornings are generally best due to the calm seas. Fun for kids and adults, the sport of kayaking is easy to learn. Many bays along the west coast offer smooth sailing and an abundance of underwater sights to enjoy.
Big Island Luau
A Hawaii Luau is a colorful and splashy show that can be great fun for the entire family. Traditionally held in honor of a milestone or special occasion, a Big Island luau is historically and culturally significant.
Outrigger Canoe
Experience the thrill of paddling across Anaeho'omalu Bay in an authentic Hawaiian outrigger canoe. Lessons and ocean tours are offered in these fascinating craft that ancient Polynesians used to navigate across the Pacific Ocean to the Hawaiian Islands from their home in the South Pacific.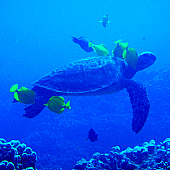 Scuba Diving
You may already know that the best Hawaii scuba diving is found in the reefs off the west coast of the Big Island. Combining stunning clarity with the relative calm of these coastal waters, Kona scuba diving along the Kona-Kohala Coast is some of the most impressive diving anywhere. For beginners, this is one of the best places in the world to learn.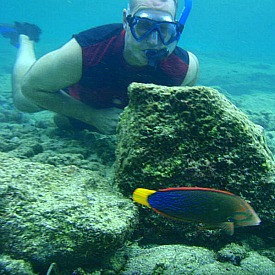 Snorkeling Big Island
With numerous inviting bays and impressive shoreline reefs, there is no better place for snorkeling Big Island than along the west coast. This is one of our favorite things to do in Kona. The crystal clear blue ocean waters are teeming with colorful tropical fish.
Sport Fishing
Kona is world renowned for its big game fishing. Big Island fishing charters are available for groups of up to 6 passengers as well as those interested in a private sport fishing experience. For shoreline fishing, the entire shoreline is yours! South Point is very good. In Kailua-Kona, try the area downtown by the seawall that fronts Hulihe'e Palace.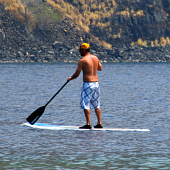 Stand Up Paddle Boarding
I used to think that SUP was an abbreviation for "what's up?" Of course you're probably smarter than that. Stand up paddle boarding has fast become one of the more popular ways to ply the gentle waters off the coast of the Big Island, or even for surfing the waves.
Surfing
How about a Big Island surf lesson? With our less intimidating waves, the Big Island is a great place to learn! Choose from a private lesson, or join a small group to save a few bucks. If you prefer boogie boarding, Magic Sands beach in Kailua Kona is a popular spot.
Ziplining
Ziplining is fast becoming one of the hot new things to do in Hawaii. A Big Island zipline tour provides the added thrill of ziplining across the top of a tropical rainforest canopy. Choose from individual tours or combine with other thrilling Big Island adventures and make an entire day of it.
---
There are several unique things to do in Kona that you won't find elsewhere on the Big Island. Our list includes a colorful farmers and crafts market, great Kona beaches, an historical museum, an amazing selection of restaurants, and fun activities like parasailing and jet skiing, available only in Kailua-Kona.

---
Lush tropical vegetation and rainbows will greet you when looking for things to do in Hilo and surrounding areas. The climate on this side of the island is cooler, so pack a jacket and get ready to explore. Outdoor activities include a stroll down Banyan Drive, rainforest waterfalls, the Hilo zoo, Hawaii Volcanoes National Park and canoeing on Hilo Bay. If you prefer to be inside, the 'Imiloa Astronomy Center and the Lyman Museum are both good bets.
---
Or try searching our site for more fun things to do in Hawaii:
Custom Search
Like This Page?
---
Favorite Things To Do On The Big Island
Have a favorite activity from your Big Island vacation? How about a memorable excursion that really stands out? Other visitors will enjoy reading about your experience so please tell us about it!

Return from Things To Do In Hawaii to Explore The Big Island Home Page