Restaurants In Hawaii
Big Island Dining
Big Island restaurants are among the best restaurants in Hawaii. There is no shortage of world renowned chefs who call the Big Island home, and consequently some of these Big Island restaurants are pretty famous as well! Nearly 500 Big Island restaurants offer everything from local fare to international cuisine. Choose from a wide selection of Kona restaurants, Hilo restaurants, dining along the Kohala Coast or even in Volcano Village.
Below are some of our favorite Big Island restaurants. What are yours? Share a review!
Island Lava Java is just about as good as it gets for sinking into the rhythm and energy of the Big Island, and one of our favorite Kona restaurants. Fresh, local ingredients are the foundation, with inspired salad creations, fresh fish, delicious sandwiches, delectable egg dishes, sumptuous sweet rolls, pastries, and decadent deserts.
Try one of the fabulous coffee drinks like a Depth Charge or other beverages such as zippy Ginger Root tea or a fresh fruit/vegetable smoothie.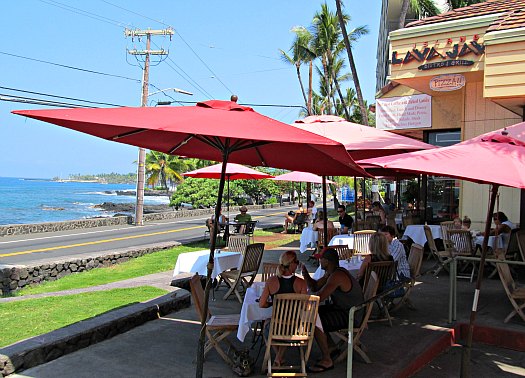 Located just across the street from the ocean on Ali'i Drive in Kailua-Kona, enjoy watching boats in the bay or stare at the surf as it rushes on shore across the lava rocks. There is often live entertainment. Lava Java is open all day, every day.

---
If we're in Hilo and it's time for breakfast, we just love Ken's House of Pancakes. A classic diner, they offer just about everything imaginable on the menu, and at a pretty fair price. Nothing fancy, just good eats.
Otherwise you'll probably find us at Café Pesto, one of the very nice Hilo restaurants to enjoy a relaxing meal with great service, in downtown Hilo.
---
It's almost too close to call for best burger restaurants in Hawaii. Annie's in Kealakekua has a slight edge over the other Big Island restaurants that serve 100% grass-fed island beef, for the simple fact that you just can't beat the view from the back deck!
But Waimea has its own relaxing energy, and we can't resist the big, juicy burgers at Village Burger, ever-so delicious! When we're up north for the day, Village Burger is often on our list.
Otherwise we choose from this list of Kohala and Kona-Kohala coast restaurants.
---
We just don't know of a more relaxing way to start the day than to enjoy 100% Kona coffee on the outside deck at The Coffee Shack, south of Captain Cook on Highway 11. Breakfast and lunch selections are very tasty. Good menu items plus daily specials. When available, the fresh Ono Benedict is hard to beat.
On a clear day it's worth the drive just for the view! Share space with an abundance of happy little geckos as they gorge themselves on guava jelly. Enjoy one of the more scenic Big Island restaurants as you gaze out at the rich landscape above Kealakekua Bay, lush with coffee trees and tropical flowers.
There are lots more South Kona restaurants to suit just about any appetite.
---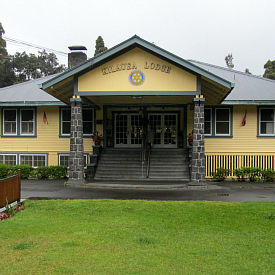 When hunger strikes as you are out exploring Hawaii Volcanoes National Park and the Kilauea Volcano, there is a small handful of interesting restaurant options in Volcano Village.

---
Specialty Dinner Tours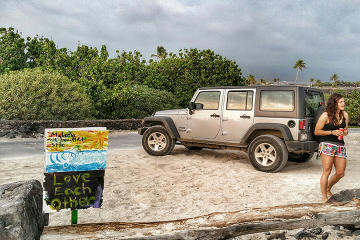 For an adventurous take on restaurants in Hawaii and an altogether different dining experience, guests love the Kona Brewery Tour and Sunset Beach Dinner. Start with beer samples at the brewery in Kona, followed by some Jeep off-roading to your private beach destination, where you will enjoy a yummy Kona Brewing Company dinner on the beach, music, fire and even s'mores!
Or indulge in an unusual, educational and delicious behind the scenes tour of Hawaii regional cuisine. This private group tour (up to 12 guests) includes visits to 2 highly respected local farms on the north side of the island. Kahua Ranch and Honopua Farm provide a personal tour plus samplings from the farm. Later, indulge in range-fed sheep or beef from Kahua Ranch and organic produce from Honopua Farm as you enjoy the special four-course dinner at one of the nicer restaurants in Hawaii: award-winning Merriman's Restaurant in Waimea.
As an alternative, start the evening off with a sunset champagne helicopter tour, complete with champagne and a traditional lei greeting. Travel like a VIP as you spend 2 hours enjoying some of the best sights of the Big Island from the air.

---
You probably weren't expecting to see luaus on a list of restaurants in Hawaii, but for traditional Hawaiian food and a fun & entertaining dinner alternative, consider a Big Island luau. Watch hula and other dances as performers recreate the celebration rituals of various cultures. Fun for the entire family, there are at least a couple of options available each night of the week.

---
Kona Coffee
The Kona coast is one of the richest areas in the world for growing superior coffee beans. The rich volcanic soil, ample moisture and just the right amount of sunshine along the slopes of the Hualalai volcano make for ideal growing conditions for the much sought-after Kona coffee bean.
It's pricey, but for coffee connoisseurs there is simply nothing quite as satisfying as a cup of 100% Kona coffee. Take an off road coffee farm and volcano tour up the slopes of Hualalai to learn more about Kona coffee and the volcano on which it grows.
Don't be fooled by the labeling of inferior coffee. That so-called Kona coffee you're drinking is often nothing more than a blend of less than 10% Kona beans with a host of other inferior coffees. If it doesn't say "100% Kona" on the label, it's NOT!
But don't take our word for it. Try it yourself at many of our fine Big Island restaurants! If you're on the mainland, you can order your own supply right here:
---
Best Big Island Restaurants
Share your own experience!
What's your favorite Big Island restaurant? What made it memorable? Something on the menu, a spectacular view, friendly service? Please share your experience so other travelers can be more informed!
---
Like This Page?

Return from Restaurants In Hawaii to Explore The Big Island Home Page