Kohala Coast Restaurants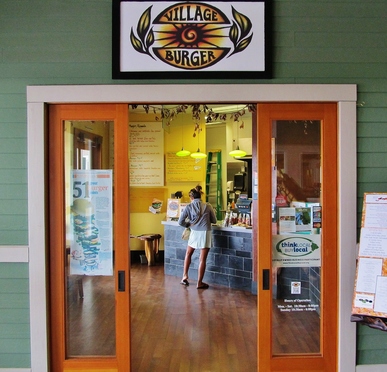 Many impressive Kohala Coast restaurants can be found at the Big Island resorts when traveling north from Kailua Kona. A few even offer oceanside dining. While the resort restaurants are going to be pricier than many other Big Island restaurants, the atmosphere is still relaxed. Nothing fancier than resort-casual as the appropriate attire when dining in Hawaii.
As we continue north on our tour of wonderful Big Island restaurants, we share our favorite restaurants in Waimea and Hawi. In this northern district of Kohala you can find a delicious Waimea Big Island natural beef burger, great sushi, delicious sandwich shops and even fine dining.
It's definitely worth taking a trip north to dine, or plan your day of exploring in such a way as to take advantage of one of these delightful Kohala restaurants for lunch or dinner.
What are your recommendations for best Waimea, Hawi or Kohala Coast restaurant? Do you have a favorite entree or recommended spot to watch the sunset? Tell us about your own experience!

Oceanside Kohala Coast Restaurants

Some of the Kohala Coast restaurants that we enjoy:

Beach Tree Bar & Grill, Four Seasons Resort Hualalai
Californian fare with a strong Italian influence, Beach Tree offers exquisite beachside dining with the uncompromising service you expect from Four Seasons. Extensive research has gone into the menu creations, including a tour of some of Italy's finest restaurants and vineyards by the restaurant's Executive Chef and F&B Manager. Many upgrades to create a casually sophisticated dining experience. At these prices it's a splurge to be sure. Just enjoy the view and take another bite of that lobster risotto. Open for lunch and dinner. 
Brown's Beach House, Fairmont Orchid
Fine dining in a delightful outdoor setting near the beach. Local Hawaii fish plus salmon and seafood selections, steak, chicken and pork chops. Servings are a bit dainty and it's pricey, but the location and atmosphere with live music make for a splendid dinner experience. Also open for lunch. 
'ULU Ocean Grill and Sushi Lounge, Four Seasons Resort Hualalai
Another Four Seasons Hualalai signature restaurant, 'ULU is consistently rated one of the top Big Island restaurants. Plenty of fabulous fresh fish and seafood selections in the open-air, oceanfront dining room. This is a first-class Hawaii dining experience at first-class prices. Open for breakfast and dinner.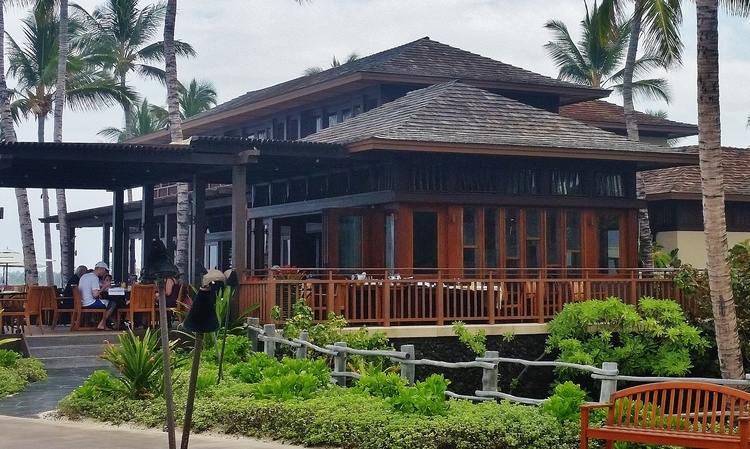 Manta & Pavilion, Mauna Kea Beach Hotel
Worth the drive north to the Mauna Kea Beach Hotel. Their breakfast buffet is a wallet-wrenching $32, but not so bad when contemplating the wide assortment of eggs, fruit and pastries, and the amazing view. For dinner, the atmosphere is casually elegant, with exotic regional cuisine like wild boar and Keahole lobster.
North Kohala Restaurants
As you venture to the north side of the Big Island, beyond the resorts and Kohala Coast restaurants, consider a lunch or dinner stop at one of these favorite Kawaihae, Hawi and Waimea  restaurants:
Merriman's, Waimea
A pioneer in using fresh produce grown by local Hawaii farmers, fresh local fish, grass-fed island beef, and local lamb, Peter Merriman has created a masterpiece of superb, flavorful cuisine. Several delicious pupus (appetizers) and garden fresh salads, with entrée selections of fresh Hawaii fish, filet mignon, Kurobuta pork and lamb. Quite pricey and very modest portions but so delicious!
Village Burger, Waimea
One of the best all-natural beef burgers you will find anywhere, period. Juicy gourmet burgers made from local pasture-raised Hawaii beef, hormone and antibiotic-free, ground and hand crafted fresh daily. The Hawaii Rancher's Beef Burger is excellent (anything less than medium-well is pretty pink inside). Fries are extra but well worth it. They also serve Hawaii red veal, a taro burger, veggie mushroom burger, and ahi.
Bamboo Restaurant, Hawi
Casual Hawaii atmosphere with pleasant island décor and prompt, friendly service. We especially like the pulled pork sandwich and barbecue pork sliders. For a sweet tropical cocktail try the Lilikoi Mojito.
There are fabulous dining options wherever you travel on the Big Island. Enjoy a quieter, more rural dining experience in Waimea or Hawi, or sample from the impressive selection of Kohala Coast restaurants at the Big Island resorts.

---
Like This Page?

Return from Kohala Coast Restaurants to Big Island Restaurants
Return to Explore The Big Island Home Page