South Kona Restaurants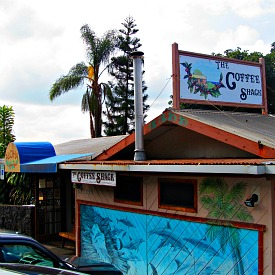 South Kona restaurants provide a wonderful opportunity to dine in the more lush, tropical atmosphere along the slopes of Hualalai, overlooking the west coast of the Big Island. You will find quite a number of exciting dining options as you head south from Kailua-Kona along either Highway 11 or Highway 180. Several of our favorite Big Island restaurants can be found in and around Kealakekua, Captain Cook and Holualoa.
Have you tried any of the great restaurants south of Kona? Tell us about your own experience!
The Coffee Shack, south of Captain Cook
Their delicious Estate coffee is grown on the hillside directly below the Coffee Shack. Simple breakfast selections offered and soup/salad/sandwiches on homemade bread for lunch. Don't miss the Ono eggs Benedict if it's offered as a daily special. Try a delicious homemade pie or pastry. Enjoy the fabulous sprawling views from the outdoor dining area adjacent to a towering avocado tree. Good homemade food, good coffee and stellar views make this one of our favorite south Kona restaurants. Where is The Coffee Shack?

Manago, Captain Cook
This is one of the more authentic, local restaurants in Hawaii. Great local fare and ample portions. They are famous for their pork chops. Family style "chow hall" in the historic Manago Hotel. Very friendly service at bargain prices. Where is Manago?
Annie's Burgers, Kealakekua
Fresh, local ingredients including vine-ripe tomatoes and organic lettuce to complement their 100% grass-fed Big Island beef. Grab a burger and beer and head out to the back deck to enjoy one of the most relaxing dining experiences on the Big Island. Free-range chicken, fresh fish, Portobello mushroom and vegan sandwiches also served. 
Ke'ei Café, Kealakekua
The biggest complaint from this second floor location is the noise from highway traffic, but the food quality will put your mind at rest. Excellent nightly fresh fish specials, Thai curry, tasty pork chops, rib-eye steak, fajitas to name a few. Try the mango cobbler for desert. Interior is attractively appointed with rich hardwoods and splendid works of art.
Teshima's, Kealakekua
The day begins with omelettes and Hawaii-style Japanese breakfast, then moves into shrimp tempura, fresh sashimi, sukiyaki, miso soup and other traditional fare for lunch and dinner. A reasonably-priced, low-key restaurant with a strong local following. Where is Teshima's?
Keauhou Farmers Market, Keauhou Shopping Center
While technically not a restaurant, this farmers market is definitely worth a stop for those cooking at home. Open Saturdays from 8am to 12 noon, this authentic local market has a country fair feel with colorful booths, friendly vendors and live music. Vendors offer fresh produce from area farms (organic greens and vegetables, apple bananas, fresh macadamia nuts, tomatoes), flowers, fresh juices, Kona coffee, handcrafted chocolates, candies, baked goods, homemade jams, lotions and skin-care products, island beef, lamb and veal, home-baked breads and herbs, plus local works of art.
South Kona restaurants offer a delightful alternative to the busy scene of Kailua-Kona. Come on down and sit awhile!

---
Like This Page?

Return from South Kona Restaurants to Big Island Restaurants
Return to Explore The Big Island Home Page