Volcano Restaurants
Volcano restaurants near Hawaii Volcanoes National Park are limited in number, but we have been pleasantly surprised with the quality of dining options available in Volcano Village. If you give yourself at least a couple of days to explore the area around the Kilauea volcano, you will have ample opportunity to check out one or more of these fine Big Island restaurants.
Have a favorite? Share your experience about Volcano restaurants you enjoy!

A cozy lodge feel greets you at this quaint Volcano restaurant. The atmosphere is warm and inviting, with hardwood floors and a beautifully decorated dining room. If there's a bit of a wait, you can lounge in front of the fireplace until your table is ready. Everyone is super friendly and the food is delicious. The restaurant is open for breakfast starting at 7:30am, with lunch from 10-2. Dinner service begins at 5pm with the menu changing nightly. We've found some very interesting dishes like antelope schnitzel and deep fried, mushroom and cheese-stuffed prime rib rolls! Save room for hot cherry cobbler topped with fresh whipped cream, or one of the other decadent desserts. Like so many places in the area, it's expensive but we love the food and the atmosphere. 808-967-7366.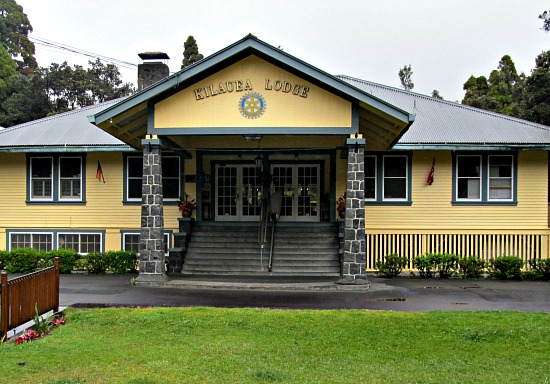 When you don't know what you're hungry for, the Lava Rock might be a good choice. Their menu is extensive and prices are more reasonable than a lot of Volcano Village restaurants. Breakfast includes large omelets and pancakes with homemade lilikoi butter. Lots of burgers and sandwiches, which they will pack for you to take to go if you are hiking in the area. Also chili, salads, fried chicken and other goodies. Next to the Kilauea General Store. 808-967-8526.

There are plenty of Thai restaurants in Hawaii, but how nice to find a good Thai restaurant all the way down here! They have a vast menu of delicious summer rolls and spring rolls, wicked curries and stir fry varieties. Service can be lacking, and like most restaurants here, it's on the pricier side of things. 808-967-7969. 

Kilauea General Store
We love to stop here before driving back north. Fresh coffee and espresso drinks are good and not outlandishly expensive. But the baked goods are what we really come for. The macadamia nut bars (sort of like a fresh pecan pie) are to die for! Also tasty mini-loaves of pumpkin bread and other delights. Baked fresh Monday, Wednesday, Friday. 808-967-7555. Next to the Lava Rock Café.

And Elsewhere on The Big Island...
South Kona Restaurants, including Kealakekua and Captain Cook

Restaurants at the Big Island resorts and north Kohala

Big Island restaurants in Hilo

---
Like This Page?

Return from Volcano Restaurants to Restaurants In Hawaii
Return to Explore The Big Island Home Page