Kailua Kona Restaurants

With more than 130 Kailua Kona restaurants to choose from, your taste buds won't have time to be bored! Some of the best Big Island restaurants are right here in Kona. Bring your appetite and aloha spirit, pull up a chair or bar stool and enjoy these Kona restaurants.
Do you have a favorite place for Big Island dining?
What's your favorite coffee shop or happy hour spot?
How about the best shaved ice or decadent dessert?
Share your own favorite Big Island restaurants!

American/Italian/Local Fare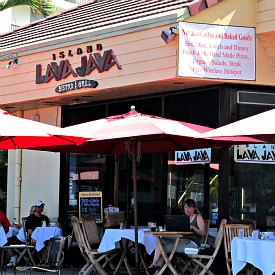 Island Lava Java
One of our all-time favorite Big Island restaurants for breakfast, lunch or dinner. Great 100% Kona coffee drinks, espresso and various teas. Excellent food with scrumptious egg dishes, pancakes, pastries, salads, interesting sandwiches, fresh fish. Their dishes are prepared with largely local, fresh ingredients. Bring your own bottle of wine at dinner and they will provide a glass. Service is sometimes a little slow (true with many Kailua Kona restaurants) but it's worth the wait! Great location with an unimpaired view of the ocean. Free Wi-Fi.
Kona Brewing Company
Great hand-tossed pizza and pub fare. And of course, the fresh, cold, hand-crafted brew. Also some pretty good salads and appetizers. Indoor bar and garden seating. A great place to unwind for happy hour, then stay for the pizza. Free Wi-Fi. 
Sam Choy's Kai Lanai
Open for breakfast, lunch and dinner, Sam combines Hawaiian culture with fresh island cooking to create a beautiful fine-dining experience overlooking the ocean in Keauhou.
Kona Inn Restaurant
A comfortable open-air, oceanfront setting, and ideal spot for sunset dining. Or sit at the expansive bar and enjoy a pre-dinner cocktail. The atmosphere is moderately upscale/touristy. A large selection of fresh fish with a variety of preparations, seafood, chicken, steaks, salads and pasta. The steaks come from corn-fed "eastern" beef. A slightly less expensive option is their Café Grill with appetizers and sandwiches, also open for lunch.
Ultimate Burger
If you can overlook the fact that there's no view and it's in Kona Commons strip mall, you will love the burgers! The atmosphere is fresh, just like the fresh, organic, Hawaii-grown ingredients. Only the best 100% grass-fed Big Island, hormone-free beef served here, as well as local lettuce and tomatoes. And sinfully good fries.
Fish Hopper
They specialize in fresh seafood and steak (not local beef) but also have an extensive menu of salads, pastas, lunch sandwiches and breakfast items. Open for breakfast, lunch and dinner.
Jackie Rey's
Consistently good food including excellent seafood, for much less than you might expect. Popular with locals with several interesting menu items, including curry-crusted ahi over organic greens or shrimp-stuffed pork loin. Jackie Rey's offers a good value with friendly service and authentic local décor. For lunch and dinner.
Kona Canoe Club
A simple, lighter pub-fare menu comparable to the bar menu at the Kona Inn. Average food in a nice location on the water at Kailua Bay. Open for lunch and dinner.
Huggo's
The best thing Huggo's has going for it is the ideal location on the water, and the accompanying views. Menu is largely Pacific rim and fresh fish, with salads, pastas and steak options. It's pricier than most downtown restaurants. Adjacent Huggo's On The Rocks is a fun oceanside happy hour joint.
Big Island Grill
Casual local diner for breakfast, lunch, dinner. Nothing fancy, just large portions of good food at a reasonable price.
Humpy's Alehouse
Bar food. Great place to catch your favorite game, with views of Kailua Bay.
Quinn's Almost By The Sea
Very casual sports bar-type atmosphere. One of the more truly local Kailua Kona restaurants, this watering hole has basic burgers, sandwiches, steak and seafood. The fish and chips aren't bad. On Palani Road across from the King Kamehameha Kona Beach Hotel, it's nearly impossible to park anywhere close to the restaurant.
---
French Cuisine
La Bourgogne
An intimate setting with only 10 tables just minutes south of downtown Kailua Kona. Classic country French cuisine including puff pastry baked brie, roast duck, rack of lamb, lobster salad, onion soup and an extensive wine list. Finish dinner off with flourless chocolate cake. With flavor this good you will forgive the ho-hum decor, and the classic French prices!
---
Mexican Restaurants
Killer Tacos
Tasty tacos and burritos at a very manageable price. Kalua pork, fish (ok so it's not locally caught), chicken, beef. A bit of a hole in the wall, it's nothing fancy and in an obscure location, but you'll return for the killer food. Closed Sundays.
Los Habaneros
Mexican fast food at cheap prices. Huevos and breakfast burritos to start the day, plus standard lunch and dinner items.
Pancho & Lefty's
A convenient location upstairs on Ali'i Drive, not a great view with power lines and such, but ok ocean views and a fun spot for people watching. The food? They offer a wide variety of Mexican selections plus various "Gringo" items. You won't leave hungry. Service can be quite slow.
---
Kailua Kona Restaurants serving
Pacific Rim/Asian Cuisine
Ba-Le Sandwich Shop
Delicious Vietnamese fast food with noodle dishes and French bread sandwiches. Fresh and tasty meals made to order. Counter service is speedy and prices are very reasonable.
Kenichi Pacific
Fairly expensive but delicious Japanese sushi, plus creative Pacific Rim fusion dishes with steak, chicken, lamb and duck. Also a vast selection of sake and deserts. Dinner service only.
Sushi Shiono
Quality sushi and Japanese cuisine prepared daily from fresh Kona fish and other varieties. Also a wide selection of sakes. Open for lunch, dinner and pupus (appetizers).
---
Thai Food
Krua Thai Cuisine
The very attractive and tasteful décor, and inviting atmosphere at Krua is matched by their delicious and authentic Thai food. Scrumptious appetizers, Thai stir fry, curry dishes, noodles, soups, salads made with always fresh ingredients. Open for lunch and dinner, with delivery and carry-out available.
Orchid Thai Cuisine
With so many Thai options among Kailua Kona restaurants, this might not be your first choice if you were just driving by. Located in a tiny strip mall off of Kaiwi Street, it's worth checking out. They serve very good Thai food at reasonable prices, with quick and friendly service in a quiet atmosphere. Good curries and spring rolls.
---
This is not a comprehensive list of restaurants in Kona. Some are left out on purpose, while others we simply haven't had a chance to review. You can help us out! What are your favorite Kailua Kona restaurants? Please share with our readers. 

---
Like This Page?

Return from Kailua Kona Restaurants to Big Island Restaurants
Return from Kailua Kona Restaurants to Things To Do In Kona
Return from Kailua Kona Restaurants to Explore The Big Island Home Page