Big Island Luaus
Big Island luaus are wildly entertaining, full of color and local pageantry. A Hawaii luau is a celebration of historical and cultural significance. Luaus are traditionally held in honor of some milestone or special occasion.
An authentic luau combines music with the traditional hula dance as a means of telling a story. Of course sharing the gift of food has always been an integral part of the festivities. Today, a Big Island luau is often an elaborate stage production that borrows much of its content from a variety of Pacific rim cultures.
While lacking some of the original Hawaiian authenticity, today's luaus are hugely entertaining, offering a sumptuous meal and a splashy show of theater, music, chanting and dance. Many re-tell stories of Hawaiian tradition and mythology, or folklore such as journeys across the Pacific and settling the islands. A Big Island luau is fun for the entire family!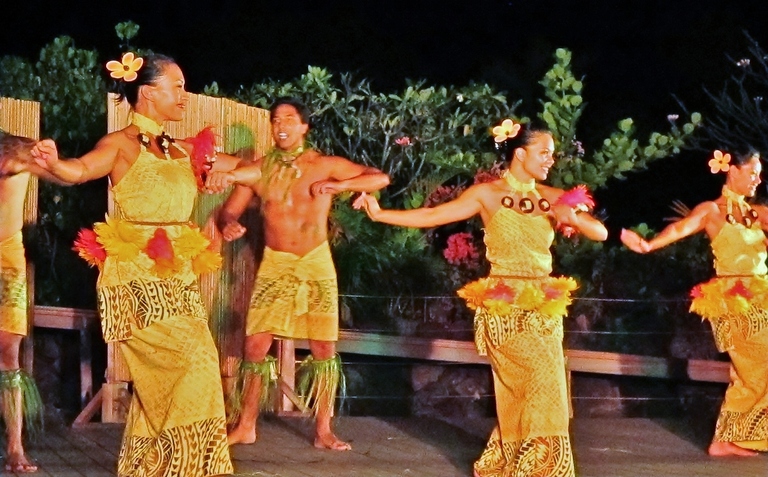 There is always plenty of food and drink which varies greatly in selection and quality from one Big Island luau to the next. Typical food that is offered at most luaus always includes Kalua Pork - pig slow-roasted on coals and hot rocks in a large outdoor pit, or imu, dug in the sand. After cooking slowly all day it comes out ever so juicy and tender. Add some sea salt - delicious! The better luaus have an elaborate Imu Ceremony where you can watch as they unearth the roasted pig.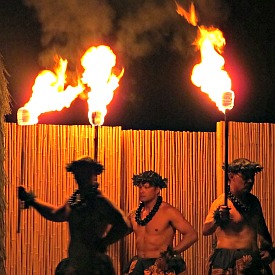 Also expect to see an assortment of roasted chicken, fresh island fish, turkey, lomi lomi Salmon, taro and guava bread, potatoes, fried rice, corn, a variety of fresh salads, many specialty items and often some sort of coconut desert.
Most shows run around 3.5 hours, including check-in, pre-dinner entertainment, buffet dinner and show. Remember, these commercial luaus are meant to be entertaining for tourists. While some may lack a certain historical authenticity, have an open mind, experience the aloha spirit, and enjoy watching as your kids' eyes light up. Who knows, you might love it!
---
Schedule of Big Island Luaus
Check out the top Big Island Luaus according to TripAdvisor.
There are luaus offered every day of the week at various hotels on the Big Island.
Sunday
Hilton Waikoloa Village
King Kamehameha Kona Beach Hotel




Monday
Royal Kona Resort
Kona Sheraton Resort at Keauhou Bay
Waikoloa Beach Marriott




Tuesday
Hilton Waikoloa Village
Mauna Kea Beach Hotel
King Kamehameha Kona Beach Hotel

Wednesday 
Royal Kona Resort
Waikoloa Beach Marriott



Thursday
King Kamehameha Kona Beach Hotel



Friday
Royal Kona Resort
Hilton Waikoloa Village
Kona Sheraton Resort at Keauhou Bay
Mauna Kea Beach Hotel



Saturday
Fairmont Orchid

Great location for the Royal Kona luau, right next to the water with an entertaining Imu ceremony. Between the location and the performance, the Royal Kona Resort has one of the better luaus. And it's a bargain relative to what some are charging. Seating begins at 5pm, the torch lighting and Imu Ceremony begin at 6pm, dinner at 6:15, and the show starts at 7pm. Free bar but it closes at 7pm. Monday, Wednesday, Friday.

The King Kamehameha luau is staged at historic Kamakahonu Bay on the grounds of what was Kamehameha The Great's estate. It's adjacent to the beach, in a paved garden-like area of the King Kamehameha Kona Beach Hotel. The performance is colorful and loud, with various island cultures represented. Gates open at 5pm, dinner begins at 6:30 with show starting at 7:15. Sunday, Tuesday, Thursday.

Free drinks but very long lines at the Waikoloa Marriott luau. The show is pretty good, food is average. On the Marriott grounds near Anaeho'omalu beach. Check in begins at 4:30pm, Imu ceremony at 5:45. Dinner buffet starts at 6:15 with the show at 7pm. Monday and Wednesday.

Free valet parking is included with this Big Island luau. More like a dinner theater than a luau, performers tell an elaborate and colorful tale of Hawaiian kings. And it's all done with lip-syncing. Hmmm. Preferred seating is available for an additional $25. Check-in begins at 4:30pm with buffet dinner beginning at 6pm. Open bar available. Saturdays only.

The newest Big Island luau, Haleo has replaced the Sheraton's poorly rated Firenesia production. One-hour Mai Tai reception and open bar. Check-in begins at 4:30pm. Monday and Friday.

The Hawaii luau at Mauna Kea Beach Hotel is in a beautiful location on a bluff overlooking the ocean. Nice Imu ceremony and all in all a pretty good show, with more of an authentic "Hawaiian" flavor than some. Imu ceremony begins outside the grounds at 5:30pm, followed by opening to luau grounds and dinner at 6pm, with the show commencing at 7:15. For reservations call 808-882-5810. Tuesday and Friday.

The luau at Hilton Waikoloa Village can be difficult to see, so it may be worth paying an extra $26 for preferred seating. The performance is on the grounds of the Hilton and there's no view. There are better ones for the price. Doors open at 5:30pm, Imu ceremony and dinner at 6, show starts at 7:15, includes two free drinks. Tuesday, Friday, Sunday.

---
Like This Page?

Return from Big Island Luaus to Things To Do Page