Hawaii State Parks On The Big Island
With 14 Hawaii State Parks, State Monuments and State Recreation Areas on the Big Island, there is much to discover. Exploring them all reveals some of the best of Hawaii: stunning beaches, gorgeous shoreline vistas, awesome snorkeling, tropical rainforest waterfalls, historic Hawaiian villages and temples, dramatic evidence of historic lava flows and the subsequent new growth forests, and even peaceful mountain retreats.
Have a favorite Hawaii State Park? Share your experience with us!
---
Hawaii State Parks
Akaka Falls State Park


Akaka Falls is one of the most spectacular Hawaii waterfalls, plunging 422 feet into the gorge below. North of Hilo, enjoy this scenic .4 mile loop trail through lush tropical vegetation, with an overlook of Kahuna Falls along the way. Restrooms and drinking water available. Park entrance fee is $5/car.
Kekaha Kai State Park


Kekaha Kai State Park on the Kohala coast combines pristine sandy beaches with both rugged and scenic hiking along the Ala Kahakai trail. Explore gems like Manini'owali Beach (Kua Bay), Makalawena Beach and Mahai'ula Beach, or hike to the summit of the Pu'u Ku'ili cinder cone for a great coastline view. Restrooms, outdoor showers and picnic tables available at Manini'owali Beach.
Lapakahi State Park


Lapakahi State Park is one of the most well preserved remains of traditional Hawaiian life. The self-guided interpretive tour takes you through what was once a thriving coastal village. Brilliantly clear water along the shoreline at Lapakahi State Park means good snorkeling as well. Restrooms available. Located 11 miles (18k) north of Kawaihae on Highway 270.
Wailuku River State Park


This is the second of the Hawaii State Parks on the Big Island to highlight Hawaii waterfalls. If you catch it just right in the early part of the day, Rainbow Falls can be a dramatic photo opportunity. Other scenic viewpoints and areas of geologic interest in Wailuku River State Park include Boiling Pots and Pe'epe'e Falls. Restrooms, drinking water.
---
Hawaii State Recreation Areas
Manuka State Wayside


Manuka State Park or Wayside is a cute and clean rest stop along Highway 11, 41 miles south of Kailua-Kona and 17 miles west of Na'alehu. In addition to picnicking there is a nice 2-mile Manuka Nature Trail that loops through the Manuka Natural Area Reserve. Picnic tables, restrooms, trash cans and open shelter camping next to the highway ($12/residents, $18/non-residents).
---
Hawaii State Monuments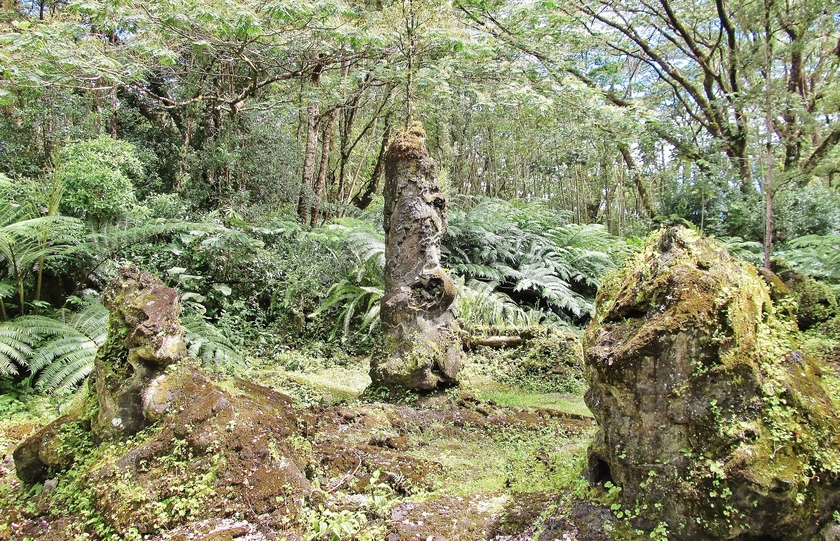 Lava Tree State Park


What is perhaps most striking when you arrive at Lava Tree State Park is the massive canopy of Monkey Pod trees that filters the sun, providing shade and creating a surreal, almost otherworldly light. A paved .7 mile (1.2k) loop trail winds through an impressive collection of tree molds, left behind after a lava flow swept through the forested area. The lava wrapped the trees and then cooled, leaving only the mold after the inner tree decayed. The thick growth of the jungle-like forest is testament to nature's ability to rebound following a decimating event. Lava Tree State Monument is 40 minutes south of Hilo, 2.5 miles (4k) east of Pahoa. Restrooms, picnic tables, and trash cans; no drinking water.
Camping or sleeping in vehicles at any of the Hawaii State Parks and recreation areas is prohibited. For campground reservations or for more information about any of the Hawaii State Parks, visit their website.
---
Like This Page?

Return from Hawaii State Parks to Attractions Page