Honl's Beach at Wai'aha Bay is a small Kona beach with soft white sand mixed with coral and bits of lava rocks. A large grassy knoll on the northern end with picnic tables and plenty of natural shade make this a great picnic spot. Even though this is a fairly small beach, there is plenty of room to lounge in the sand along the shore.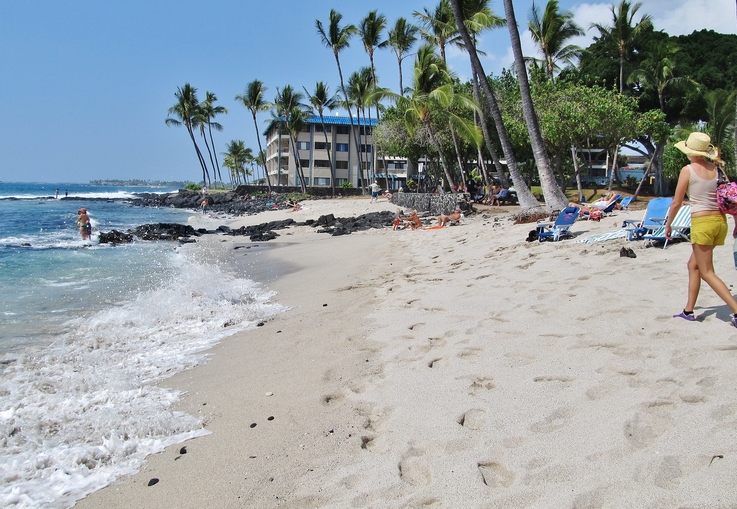 We enjoy walking the 15 minutes from Coconut Grove Marketplace in Kona to sit on the grass and watch the sunset. Because of the large reef and rocky entry from the beach, the swimming here isn't great. The current can be strong on the north end of the beach, so if you go in the water stay close to the shallow area near the beach.
When the surf is up, the waves out past the reef can make for some great boogie boarding and surfing. In fact, this is one of the most popular Kona beaches for boogie boarding, which makes sense since Honl's Beach is the birthplace of that popular sport!
History of Boogie Boarding
Bodyboarding dates back thousands of years when Polynesians rode waves on bundles of palm fronds, reeds or just about anything else that would float. In more modern times, these smaller "paipos" were considered more for children who had not yet advanced to the longer surfboards.
In 1971, all that changed. Desperate to ride the wave's out beyond Honl's beach near his home in Kona, surfboard builder Tom Morey crafted a makeshift body board out of a long piece of polyethylene foam and jumped into the water. Two years later he trademarked the name Morey Boogie, and thus began what has become one of the most popular ocean sports in the world.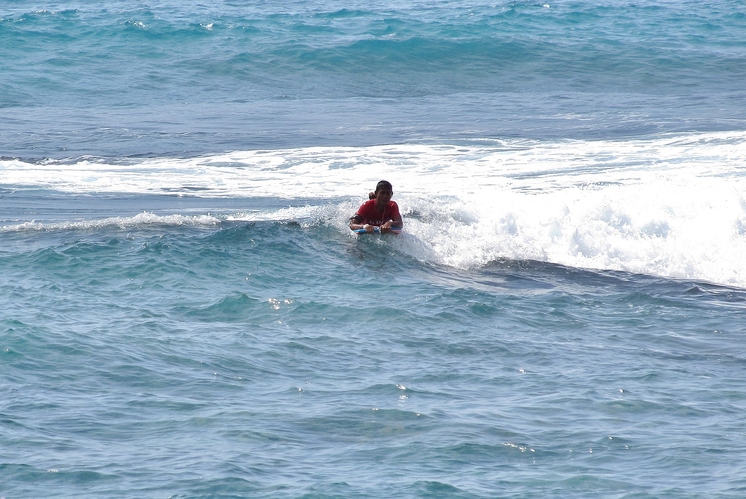 The one great advantage a boogie board has over a standard surfboard is how user-friendly it is. In a relatively short amount of time, novices can become adequately proficient to have wild amounts of fun in the surf. It is unquestionably the easiest way to learn to ride waves. Tens of millions of beach-goers have picked up a boogie board and felt the sensation of being effortlessly propelled toward shore.
Today, Honl's is still one of the more popular boogie boarding beaches on the Big Island. It is the home of Kona's Annual Roots Bodyboarding Contest. People flock to this popular spot with boards in hand, ready to catch a wave.
Other popular boogie boarding beaches include Magic Sands three miles to the south, and Kua Bay north of Kona. Boogie board rentals are available both in town and at many of the beaches.
Directions to Honl's Beach
| | |
| --- | --- |
| This beach is easy to find, located just past the 1-mile marker south of Kona on Ali'i Drive Immediately across the street from the beach are restrooms and outdoor showers. Even if you aren't here to boogie board, Honl's Beach at Wai'aha Bay is a nice place to bring a beach chair and a good book, and relax on the grass or in the sand. | |
What's your favorite Big Island beach? We're always curious what our readers have to say. 
Share your own story, maybe even a photo or two. We'll publish it right here for other readers to enjoy.
---
Like This Page?

Return from Honl's Beach to Hawaii Beaches Page

Return to Explore The Big Island Home Page