Hotels In Kona
Hotels in Kona offer a nice selection of options that should please every traveler, from newlyweds to families to solo vacationers. And whether you are looking for a bargain basement deal or a more upscale accommodation, there is sure to be a Kona hotel to suit your needs.

Most hotels in Kona are located along Ali'i Drive, either on the water or within easy walking distance of the shore and neighborhood restaurants. They may not be as flashy as the Kohala coast resorts, but you will find your dollar goes a lot farther at most Kona hotels. If you are a savvy shopper you can find some real bargains, a decent room at a reasonable rate. 
The beaches along the Kona coast are not endless crescents of soft sand, but there are plenty of beaches to have a lot of fun in the sun, including great swimming, snorkeling, surfing, boogie boarding, stand up paddle boarding, fishing, and of course easy access to the tour boat companies. With so many things to do in Kona, this is a great starting point for your Big Island adventures.
Have a favorite Kona hotel? Tell us about it here!

The following hotels are listed beginning at the north end of Ali'i Drive in downtown Kona, then south to Keauhou and Captain Cook.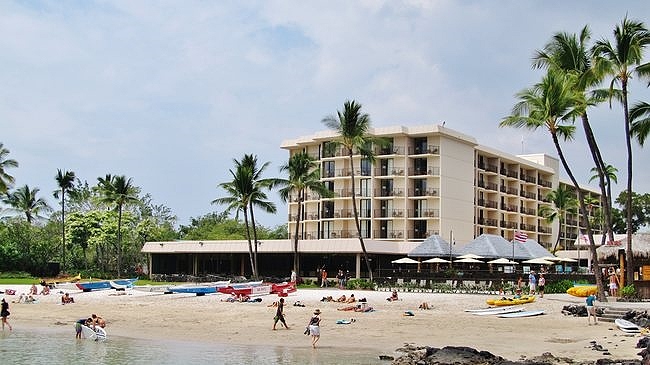 The Courtyard King Kamehameha Kona Beach Hotel has 452 rooms. Kamakahonu Beach is right in front of the hotel, with soft white sand and a calm swimming area. In fact there are no other truly beachfront hotels in Kona. Outdoor infinity pool, two restaurants, tennis courts, fitness room, in-room coffee maker, HD flat screen tv. Free Wi-Fi and coin-op laundry. The entire hotel has been nicely renovated. Experience the Island Breeze Luau on Sunday, Tuesday or Thursday nights.

---
The Kona Seaside Hotel has 218 rooms and two pools. The hotel is centrally located in the heart of Kailua Kona, but let's be honest: it's a block from Kailua Bay and decidedly not "seaside". This Kona hotel is simple and very dated, but well-groomed with friendly staff. Rooms are average yet clean and comfortable. Free Wi-Fi and coin-op laundry. 

Plan your trip: location of Kona Seaside Hotel.

---
The Holiday Inn Express and Suites Kailua-Kona is the newest addition to Big Island Hawaii hotels, having opened in the fall of 2014. Located 3 blocks from Kailua Bay in downtown Kona, the moderately priced hotel has 75 guest rooms with both a 24-hour fitness center and business center. 

Plan your trip: location of Holiday Inn Express.

---
Uncle Billy's Kona Bay Hotel offers the cheapest night in Kona. Centrally located, this Kona hotel (with 123 rooms) is a budget hotel in every sense of the word. Clean, very basic rooms for a very basic price. Free Wi-Fi and coin-op laundry. All rooms face the ocean across the street, and above the 2nd floor you might actually see it. 

Plan your trip: location of Uncle Billy's Kona Bay Hotel.

---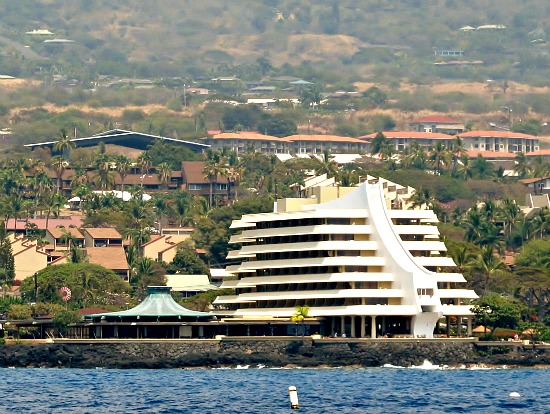 There are 436 rooms at the Royal Kona Resort. Owned by Hawaiian Hotels and Resorts, rates are often cheaper if you book a package. Whatever you do, avoid paying rack rates for hotels in Kona. Two restaurants, pool, children's pool, tennis courts, fitness room. Free Wi-Fi and coin-op laundry. Oceanfront in downtown Kailua-Kona, but no beach. Newly renovated rooms are unremarkable. Reserve your spot for the Voyagers of the Pacific Luau on Monday, Wednesday or Friday night.

---
The Kona Tiki Hotel has 15 rooms. A very small property with no beach but the pool is so close to the sea wall that waves splash over it! No phones, A/C, TV, or Wi-Fi but a clean, comfortable room with free continental breakfast and super friendly. All rooms have ocean views. For a very basic room in an awesome location this is a great deal. Someone actually complained about the noise from the crashing waves. Really? But wait, you're in Hawaii!
Plan your trip: location of Kona Tiki Hotel.
---
The Outrigger Kona Resort and Spa is a modern and refined resort hotel that sits oceanside above lava cliffs on Keauhou Bay, six miles south of Kona. There are 509 guestrooms and suites, three restaurants, lounge, spa, outdoor "fantasy pool", two tennis courts and 24-hour fitness room. The resort is very family oriented with a great kids center, gaming area and 200-foot waterslide. Oceanside but no sand beach. Good spot for viewing Manta Rays feeding. Continue for additional images and more information.

---
The Manago Hotel is located 12 miles south of Kailua Kona on Highway 11, with 64 rooms and a restaurant. Rooms with a private bath start at around $80. Free Wi-Fi, no phones or TV's in the rooms and no laundry. Very convenient for exploring Kealakekua Bay and the Place of Refuge. Definitely an authentic feel of old Hawaii here. Simple but clean, this is a real value.
Plan your trip: location of Manago Hotel.
---
Looking for something other than Hotels in Kona?
If you're looking for more of a beach resort, check out the hotels and resorts along the Kohala coast north of Kona.
If you're heading to the east side of the island, you might want to spend a night or 2 at one of the Hotels In Hilo.
Or perhaps you prefer a little more privacy during your vacation in paradise. A cozy Bed and Breakfast or vacation rental home might be more to your liking:

---
Like This Page?

Return from Hotels In Kona to Big Island Hawaii Hotels

Return from Hotels In Kona to Explore The Big Island Home Page