Hotels In Hilo
Many hotels in Hilo offer great ocean views and are within easy walking distance of Hilo Bay. 

Relative to Kona, Hilo is quiet. Spending a night here may feel like you've just been transported to some forgotten time in the past, a piece of old Hawaii. After spending a night or two along Ali'i Drive in Kona you will appreciate the difference!
Many of the Hilo hotels are mere shadows of their former glory days, once grand spectacles of an up and coming tourist business. Most have struggled to keep up with the times. The economy has taken its toll and far too few of Hilo's Big Island Hawaii hotels have received much needed upgrades. Some just feel old and tired. Visitors frequently comment about the need for renovations.

Perhaps it is that very lack of renovations that helps keep the cost down! You can find some real bargains on this side of the island compared to Kona hotels. Consider your Hilo hotel a comfortable place to rest your head at night following a busy day exploring the nearby sights. From Hilo it's an easy drive to experience the gorgeous waterfalls north of town or all the wonders of Hawaii Volcanoes National Park, just 50 minutes away.

Any hotels in Hilo you'd like to recommend? Please tell us about your experience!
We consider the Dolphin Bay Hotel to be perhaps the best value of the hotels in Hilo. This small and charming Hilo hotel has 18 rooms with an outdoor pool on the property and free continental breakfast included. We have always found the rooms to be clean, each with kitchen but no phone in the room.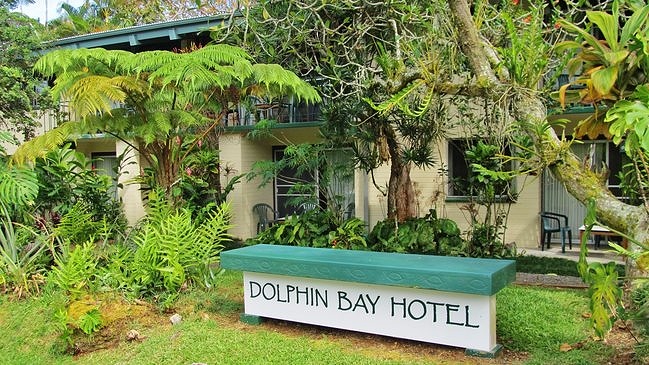 Plan your trip: location of Dolphin Bay Hotel

---
Following a $30 million renovation completed in 2016, the Naniloa Hotel Hilo is under new management as a DoubleTree by Hilton. In disrepair for years, the nicely updated facility is now perhaps the nicest hotel in Hilo. Located oceanfront on Banyan Drive, the property has 320 refurbished guestrooms and suites, 2 restaurants, the largest indoor-outdoor entertainment showroom on the Big Island, an outdoor pool fronting the bay and Hilo's only 9-hole golf course.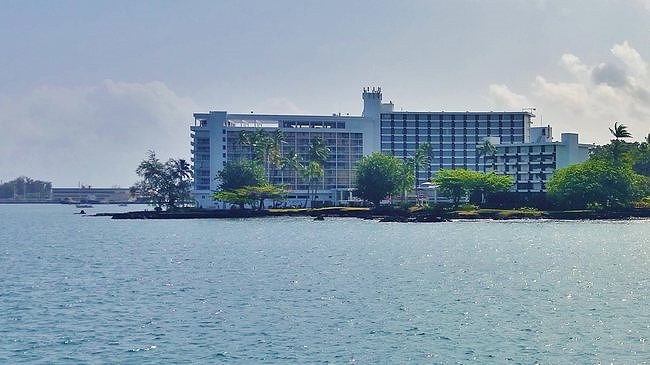 Plan your trip: location of Grand Naniloa Hotel
---
The Hilo Hawaiian Hotel has 286 rooms. This waterfront property has an outdoor pool, restaurant and lounge. The hotel is in a good location on historic Banyan Drive. The rooms are clean and comfortable but showing their age.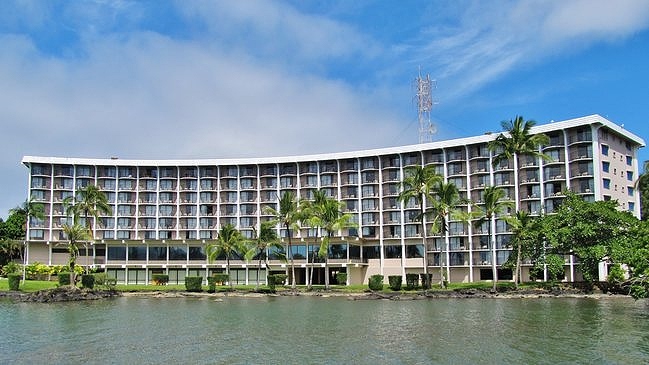 Plan your trip: location of Hilo Hawaiian Hotel

---
The SCP Hilo Hotel has 135 rooms and is located on the shores of Hilo Bay. There is an outdoor pool centrally located in the hotel courtyard. The property is well maintained and the rooms are old but clean. The staff is friendly and helpful. 

Plan your trip: location of the SCP Hilo Hotel
---
---
Vacation Rentals In Hilo
| | |
| --- | --- |
| | If you prefer all the comforts of home, there is a large selection of vacation rentals in Hilo and the surrounding area. There are rental options to fit every budget, everything from basic to luxury accommodations, but lodging in general is less expensive on this side of the island. |
---
Like This Page?

Return from Hotels In Hilo to Big Island Hotels

Return to Explore The Big Island Home Page