Volcano Weather

At an elevation of 4000 feet (1220 meters), Volcano weather, while still relatively mild, is considerably cooler than much of the island. Be prepared for a wide range of weather conditions.
The weather in and around Volcano Village fluctuates daily. It rains less on average here than in Hilo, but you should be prepared for rain at all times. Volcano Village itself receives an average of 10-13 inches of rain per month during the winter, and 4-6 inches on average during the summer months.

The average temperatures at Volcano Village and Hawaii Volcanoes National Park are more likely to be in the 60's and 70's (teens and low 20's Celsius) during the day than the warmer temperatures you experience in Kona or Hilo.

Volcano Weather Can Be Unpredictable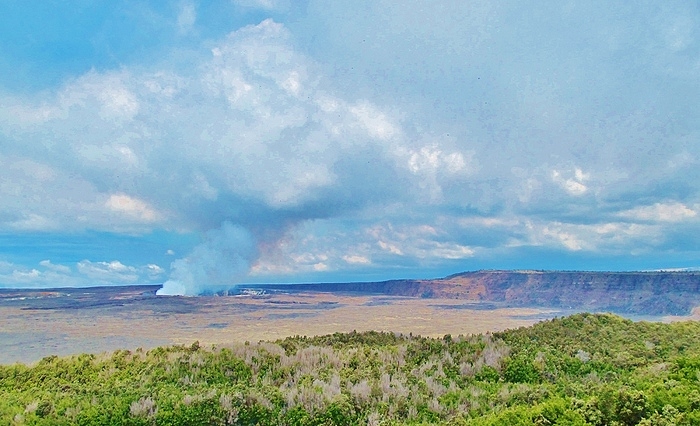 The temperature changes quickly in Hawaii Volcanoes National Park as you drive south and drop in elevation on Chain of Craters Road. It is usually 10-15 degrees cooler near the visitor center and at the Kilauea summit than at the coast, where it is often hot and dry, and frequently very windy.
That being said, we've also experienced a relatively dry hike along the Kilauea Iki Trail, only to be met by a deluge of rain when we later drove out to the end of Chain of Craters Road along the southern coast. Be prepared for all types of weather and unexpected changes.
Things are moist. The tropical rainforest in and around Hawaii Volcanoes National Park is as thick and lush as you will find anywhere. Fern jungles thrive in the moist climate, and there are plenty of places to find shade in the thick growth. If you are out and about during the evening, bring a jacket or sweater. And of course bring raingear anytime you are out exploring.
Despite their proximity to Kilauea, Volcano Village and Hawaii Volcanoes National Park are actually impacted less by the sulfur dioxide emissions from the Kilauea Caldera than the town of Kailua-Kona, nearly 100 miles away! The prevailing winds generally keep the air around the park and the town of Volcano clean and clear. Be aware of shifting winds in the area around Kilauea, for things can change at any moment. Keep an eye on the weather and heed any warnings and closures.

---
Like This Page?

Return from Volcano Weather to Hawaii Climate & Weather
Return To Explore The Big Island Home Page