Pana'ewa Rainforest Zoo and Gardens

Pana'ewa Rainforest Zoo and Gardens near Hilo is the only natural tropical rainforest zoo in the United States. Fun for the entire family, the Hilo zoo is home to more than 80 animal species.
As the name suggests, this zoo is lush and tropical. Enjoy strolling around the thick rainforest gardens with a dazzling display of various Orchid collections, Tropical Rhododendrons and Clumping Bamboos. Picnic under the shade of more than 100 varieties of Palm trees.
Access is easy, courtesy of a paved walkway that winds throughout the zoo. With the frequency of rain showers in the area, you may want to consider bringing an umbrella.

One of the first attractions you will notice upon entering the zoo are the colorful flower and frog-filled lily ponds.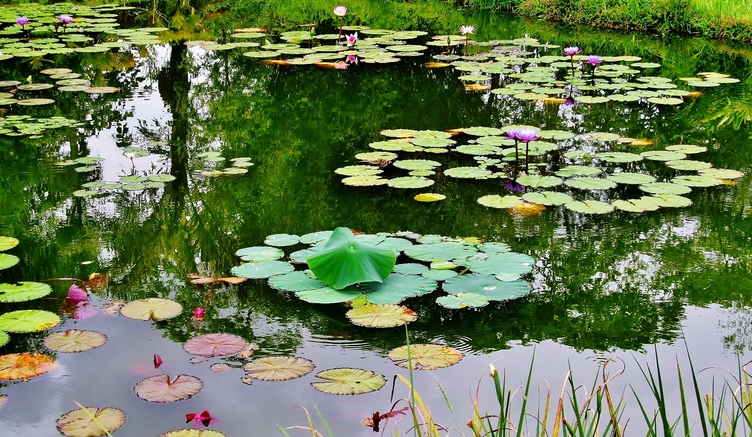 A butterfly garden and an abundance of rainforest birds and other bird species can be seen at the Hilo zoo. Some of the birds visitors might spot include the endangered Nene (the Hawaii state bird), macaws, parrots, and toucans.

Pana'ewa Rainforest Zoo and Gardens may be small (only 12 acres), but it is packed with interesting and unusual animals such as Honeybears, Spider Monkeys, Squirrel Monkeys, 2-toed Sloths, Giant Anteaters, a Green Iguana, a Leopard Gecko, Snapping Turtles, Box Turtles, a pair of Red Tegus named Mr. and Mrs. Pickles, and Ringtailed Lemurs.

For nearly 15 years the key attraction to the Hilo zoo was a beautiful white bengal tiger named Namaste. Raised from infancy by a Las Vegas magician, Namaste was born on September 30, 1998. He arrived in Hilo when he was 7-months old.

He was donated to the Hilo zoo due to the tropical setting and the impressive size of the tiger's 1-acre enclosure.
Namaste's health began to deteriorate in 2013 and he died on January 16, 2014, not long after celebrating his 15th birthday. While his departure leaves a huge hole, Pana'ewa Zoo officials are working on plans to obtain another tiger, once renovations to accommodate a younger animal have been completed.

Getting to Pana'ewa Rainforest Zoo
To get to the Pana'ewa Zoo, drive south out of Hilo on Highway 11 for four miles. Just past the 4-mile marker, look for the Zoo sign on your right. Follow signs for about 1 mile off the highway.
Admission to the Hilo zoo is free but donations are welcomed. The zoo is open 9am-4pm daily except Christmas and New Year's Day. The Petting Zoo is open Saturdays only from 1:30-2:30. For more information call (808) 959-9233.

---
Like This Page?

Return from Pana'ewa Rainforest Zoo to Hawaii Attractions