Waikoloa Beach Marriott Resort
Waikoloa Beach Marriott Resort and Spa is another of the many wonderful lodging options at the sprawling Waikoloa Beach resort complex. With three resort pools, a waterslide for the kids, 3 spas and a fitness center, the property is nicely laid out and attractively landscaped.
As guests move through to the ocean side of the hotel, they are greeted with tasteful landscaping that maintains much of the integrity and natural beauty of its volcanic coast, with stone walkways meandering through what were once fields of lava, across spacious lawns and gardens leading to the three pools.
One of two major hotels in the Waikoloa Beach Resort area, the Marriott is 25 miles north of Kailua-Kona and 19 miles from Kona International Airport (KOA) off of highway 19.  
Upon first look, the hotel has a bit of an urban feel with its somewhat stark, conservative architectural style. While perhaps not as elegant or tropical as some of the other Kohala coast resorts, it is priced accordingly.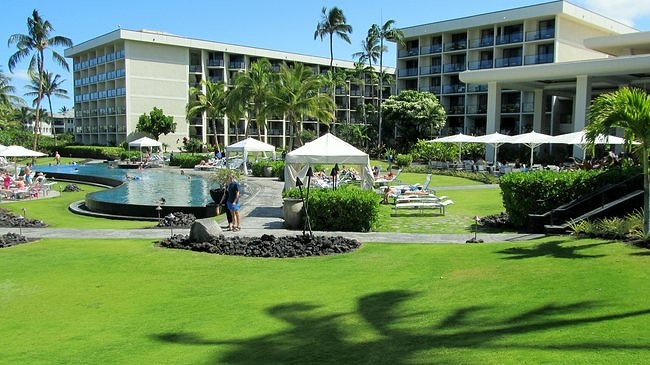 The path from the hotel winds through the Waikoloa fishponds to Anaeho'omalu Beach. This salt and pepper sand beach is a comfortable place to unwind with excellent swimming. The snorkeling on either end of the bay is decent. A fabulous shoreline trail winds along the coast to the nearby Hilton Waikoloa Village.

Anchialine Ponds at Waikoloa Beach Marriott
In addition to the attraction of Anaeho'omalu Beach, one of the more interesting features of this Waikoloa resort is its proximity to the Waikoloa anchialine pools. These ancient fishponds are an important part of Hawaiian culture and history, and home to a variety of small fish, tiny shrimp and even large eels. In 1985 the ponds became part of the Anchialine Pond Preservation Area.
Fed by underground freshwater springs and ocean water, the anchialine ponds are connected to the ocean through underground passages. The water level in the ponds rises and falls with the tide.

Shopping, Golf and More
Located across the street from the King's Shops, the Waikoloa Marriott is ideally situated for easy shopping, much more than other Big Island resorts. In addition to their on-site restaurant, you are within easy walking distance of several restaurants at the King's Shops. 
Golf is available at the nearby Waikoloa Beach Resort Golf Course.
The Waikoloa Marriott also puts on a pretty good show with their Sunset Luau, offered Monday and Wednesday nights.
---
Like This Page?

Return from Waikoloa Beach Marriott to Big Island Resorts

Return to Explore The Big Island Home Page