Hilton Waikoloa Village

Hilton Waikoloa Village at Waikoloa Beach Resort is, in a word, elaborate. As soon as you walk in the front entrance of this Waikoloa Beach Resort hotel, get ready for your jaw to drop. It's over the top, a little bit Disneyland, a little bit Indiana Jones, a little bit history, a whole lot of fantasy. The Big Island Hilton is an enormous playground suitable for kids of all ages, and because of that, it's a great family resort.
This place is anything but boring. Millions of dollars of artwork from around the Pacific adorn the walls, line the walkways and fill the courtyards, including marble sculptures from remote mines in northern China.
The resort is divided into three "towers" (Lagoon, Palace and Ocean), with each tower being its own sort of self-contained hotel within the hotel.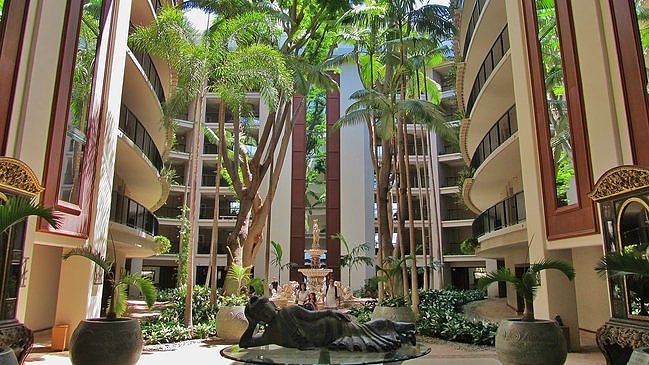 A tram shuttles those who would rather not walk around the resort, and even a Disney-inspired boat service is available in the afternoon. Even if you aren't staying here it can make for an entertaining visit just to enjoy a train ride and marvel at the oceans of art.

There are 3 pools on the 62-acre Waikoloa resort property but no beach except the man-made beach within the lagoon. The closest true beaches are 1/2 mile walk or within easy driving distance.

Guests can float around in paddle boats, kayaks, or stand up paddle boards in the ocean-fed lagoon. The daily kids camp is $60 per day with multi-child discounts.

A word of caution: with 1240 guest rooms, 1000 employees and so much going on at once, the Big Island Hilton can start to feel a little overwhelming. It can get a little chaotic, unless you happen to find this much stimulation relaxing! It's a lot of fun, but this is not what we would consider authentic Hawaii.

Rates for a standard room at the Hilton Waikoloa Village start at around $206/night, but that's just for your room. There are extra charges for just about everything. The resort has 9 excellent restaurants with 8 lounges, 2 golf courses, 8 tennis courts, 3 spas and fitness center, lots of shops, and an excellent conference facility.

Location of Hilton Waikoloa Village
The Hilton is part of the Waikoloa Beach Resort, located just minutes off of highway 19, twenty miles north of Kona International Airport and 26 miles north of Kailua-Kona.

---
Like This Page?

Return from Hilton Waikoloa Village to Big Island Resorts Page
Return to Explore The Big Island Home Page