Pahoehoe Beach Park
Pahoehoe Beach Park is a Big Island beach with a shoreline comprised more of rocky pahoehoe lava than actual sand. As Kona beaches go, Pahoehoe Beach is not a good swim beach, but don't let that discourage you from spending time here!
An expansive lawn area with tall palms and kiawe trees providing plenty of shade adorn the park, with lots of lush grass to go along with the small pockets of sand on the beach. It's quiet here and almost never crowded. Like most Kona beaches, Pahoehoe Beach is a comfortable place for a picnic or to simply sit and watch the surf. There are plenty of picnic tables and benches scattered throughout the park.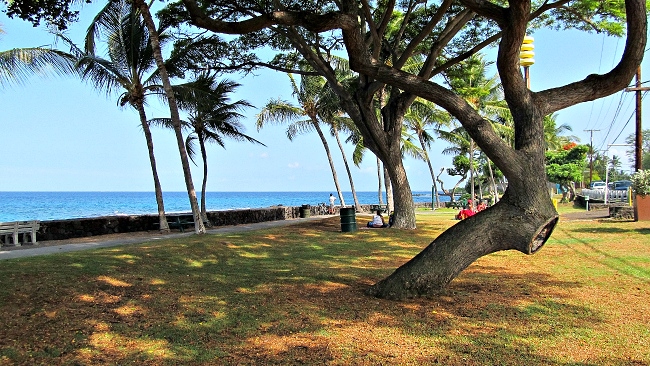 A large lava reef juts out from shore, adjacent to a small pocket of sand at the north end of the park. This gives way to a mixture of coral rubble and lava rocks along the beach before opening up to the large grassy terrace above the beach. A low seawall extends along the water's edge, protecting the park from waves. You might see people fishing out along the reef on the north end of the park. 

It is because of the shallow water and the lava rock reef that virtually surrounds the park that swimming here is poor. If you really just want to swim, there are better Kona beaches for that! Consider Magic Sands Beach just a short way south on Ali'i Drive, or Kailua Bay on the north end of town.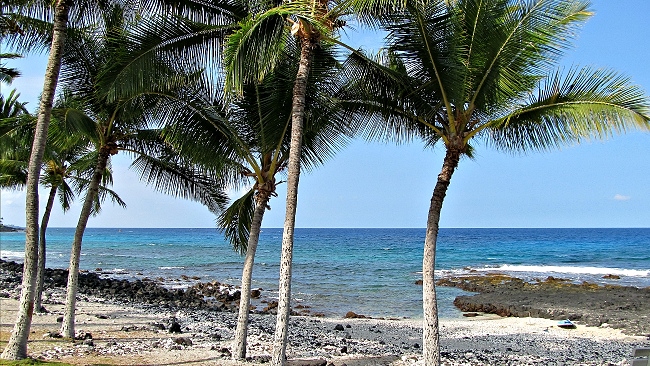 For you more adventurous and advanced swimmers, there is great snorkeling not far offshore. But first you'll have to make it out past the edge of the reef without letting the surf scrape you against the rocks!
If you do snorkel here, be sure to swim out far enough to reach the edge of the offshore lava shelf. There are plenty of colorful fish, beautiful coral and interesting underwater holes and arches to explore. Advanced scuba divers will also enjoy this area. Beginners are discouraged due to unpredictable currents and uneven ocean bottom.
Directions to Pahoehoe Beach Park
Pahoehoe Beach is easy to find along Ali'i Drive, just south from downtown Kailua-Kona. The beach park is located past the 3.5 mile marker, just a short distance north of Magic Sands beach. Parking is along the street.
What's your favorite Big Island beach? We're always curious what our readers have to say. 
Share your own story, maybe even a photo or two. We'll publish it right here for other readers to enjoy.
---
Like This Page?

Return from Pahoehoe Beach to Big Island Hawaii Beaches
Return to Explore The Big Island Home Page