Ho'okena Beach Park
Ho'okena Beach at Kauhako Bay is a beautiful soft sand beach, a salt and pepper mix of crushed grey coral and fine white sand. With strong local ties, the beach community has created a family-friendly environment that is popular with locals and welcoming to visitors. The park is off the beaten path and combines a smooth blend of a delightful beach scene, local culture and a piece of Hawaii history.
The scenery at Ho'okena is beautiful with a great view of the open ocean. This is a nice place for a picnic or to simply relax on the soft sand. There are plenty of places to find shade under one of the large trees along the back of the beach.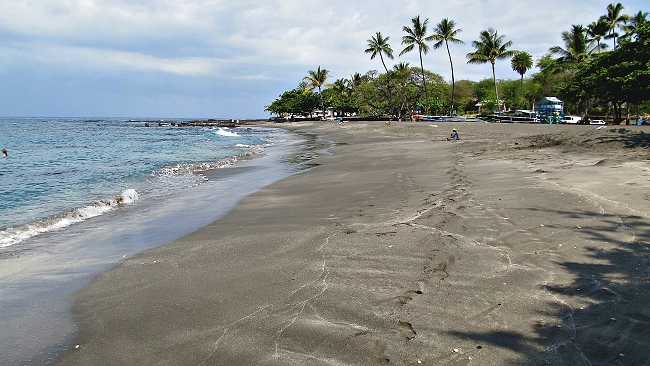 Adjacent to some ruins of Ho'okena Village, Ho'okena Park is historically significant as the site of one of the last Hawaii fishing villages on the Big Island. You may notice remnants of the old pier north of the beach.
When there's no wind, the ocean can be blissfully calm and makes for good swimming. There is some good snorkeling to the left of the beach. The water gets very choppy as the breeze starts to pick up. During moderate surf you will usually see lots of kids playing in the waves. Boogie boarding can be great fun here.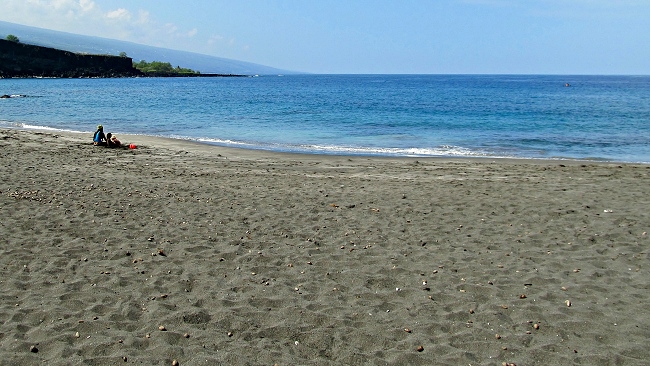 At the north end of the beach there is a large concessionaire where you can rent kayaks, boogie boards and snorkel gear. There is usually a small concession stand for snacks right on the beach. There are also outdoor showers, restrooms and picnic tables. Ho'okena is a fine place to spend a few hours or an entire day. Note that there is no lifeguard on duty here.
There is frequently a small community of tents in the campground behind the beach. Permits for tent camping are available but unfortunately the price has gone up to $20/night for out of state visitors ($5 for Hawaii residents).

Where is Ho'okena Beach Park?
Ho'okena is 23 miles south of Kailua-Kona and just a few miles south of Honaunau City of Refuge. To reach the beach, follow Highway 11 approximately eight miles south of the town of Captain Cook. Between the 101 and 102 mile markers look for the sign to Ho'okena Beach. Turn toward the ocean and continue about 2 miles to the end of the road. The road drops steeply. When you reach the bottom, stay left through the small village.

What's your favorite Big Island beach? We're always curious what our readers have to say. 
Share your own story, maybe even a photo or two. We'll publish it right here for other readers to enjoy.
---
Like This Page?

Return from Ho'okena Beach to Big Island Hawaii Beaches
Return to Explore The Big Island Home Page