Hapuna Beach Prince Hotel
Hapuna Beach Prince Hotel offers a magnificent view overlooking the ocean, with an equally attractive surrounding landscape. Wow, what a scene! The appealing open-air layout of the lobby lends itself well to the best thing about this Kohala coast hotel: its location, next to one of the best beaches on the Big Island. Access to marvelous Hapuna Beach is just steps away. The expansive views are breathtaking.
Opened in 1994, the Hapuna Beach Hotel is the second phase in Rockefeller's grand design for the Mauna Kea Resort. Together with the Mauna Kea Beach Hotel, the stunningly scenic oceanfront resort stretches across more than 1800 acres. Located 27 miles north of Kona International Airport (KOA) and 33 miles from Kailua-Kona, the Hapuna Beach and Mauna Kea Beach Hotels are more remote than other Big Island resorts. But the beachfront locations of these world class resorts are second to none!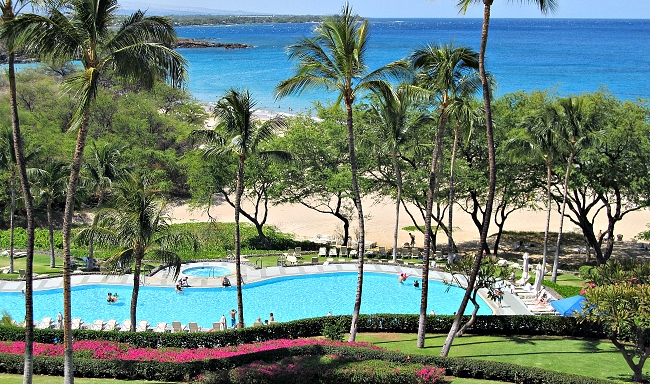 All rooms at the Hapuna Beach Hotel face the ocean. Most rooms are average size with larger than average bathrooms and granite sinks. In 2012, 96 of the oceanfront guest rooms and luxury suites received much needed upgrades, with Polynesian and Hawaiian-style fabrics and blonde wood furnishings. Be sure to request one of these newly remodeled oceanfront rooms. 
The Hapuna resort is a long series of terraces. Be prepared to do some walking. The beach itself is a half mile long! The lovely pool is quite large and sits on the terrace above Hapuna Beach.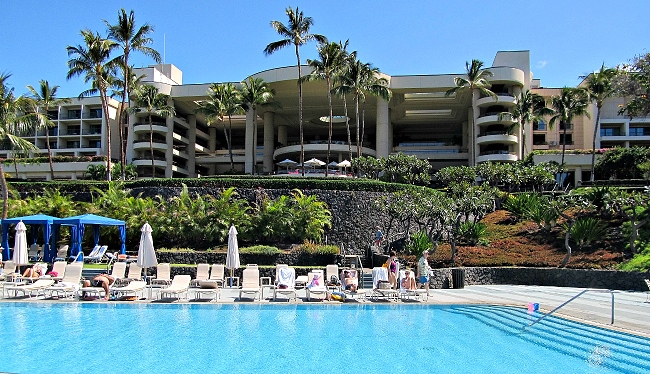 A day camp is available for keiki (children) staying at Hapuna Beach Prince Hotel. The program is seasonal so call ahead for availability. Additional fee applies. Guests also have three restaurants to choose from, plus a spa and fitness center.

Golf and Tennis
If you prefer world class golf to world class beaches, two Big Island resorts are at your doorstep. The Mauna Kea Resort golf course is adjacent to the hotel, with the Hapuna golf course across the highway. Greens fees at the Hapuna Golf course are $175, $95 after 1pm with additional discounts for Hawaii residents.
Tennis is offered on the courts at the Mauna Kea Beach Hotel. Complimentary shuttle service is available between these two Kohala hotels, with reciprocal signing privileges at Mauna Kea.

Hapuna Beach Prince Hotel Reviews
The Hapuna Beach Prince is consistently ranked as one of the top hotels on the Big Island. The vast majority of guests we contacted rated their stay as excellent or very good. Considering the location of the resort, the average room rate here is a real bargain.
---
Like This Page?

Return from Hapuna Beach Prince Hotel to Big Island Resorts Page

Return to Explore The Big Island Home Page