Ahalanui Park
Update: Ahalanui Park was consumed by lava in July, 2018 from the Kilauea Volcano eruption. The following information is for historical perspective only. 
---
Ahalanui Park was one of the best family beaches and a fine example of the many things we love about living on an island of volcanoes, prior to being buried under feet of lava during Kilauea's explosive eruption in July, 2018. Adjacent to the highway with a breakwater to protect the pool from the open ocean, Ahalanui was a favorite family destination.
On some parts of the Big Island, water that is heated by the volcano finds its way to the surface. This has been particularly true in the Puna district, where we once enjoyed the heated waters of Ahalanui Beach Park.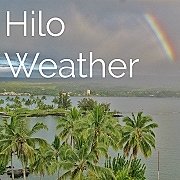 At Ahalanui, a pool was created to capture the warm water. The pool was fed by an inlet from the ocean and warmed by a volcanically heated spring. It had a natural sand/mud bottom. A unique Hawaiian bathing experience, the pool at Ahalanui Beach Park was by no means a hot spring. Water temperature would fluctuate between about 90-95 degrees F (32-35C). By comparison, your public swimming pool is probably around 82 degrees F (27C).

Because Ahalanui was fairly large, bathers would swim around to find your perfect temperature. Pockets of cooler and warmer water formed as the ocean water mixed with the warmer spring water. 
Ahalanui Beach Park was scenic and relaxing, surrounded by coconut palms with views of the open ocean. We would enjoy the relaxing melody of the surf breaking over the sea wall. On a part of the Big Island that is characterized by pounding surf and strong currents, this was one place visitors could relax in the water. They even had lifeguards!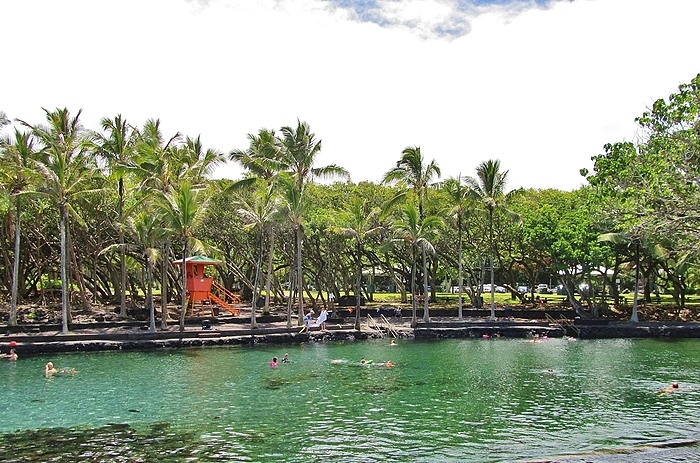 Relative to most Hawaii Big Island beaches, true Puna beaches are limited. The Puna coast consists largely of lava rock with pockets of interspersed sand. To call this a "beach" park is a bit of a misnomer, but even if you didn't go in the pool, Ahalanui Park made a nice place for a picnic with plenty of room to spread out. 
Because sulfur is associated with the volcano, visitors may detect a slight sulfur smell in the water of natural hot springs. And a word of caution: never swim in any springs or streams in Hawaii if you have cuts or open wounds.
What's your favorite Big Island beach? We're always curious what our readers have to say. 
Share your own story, maybe even a photo or two. We'll publish it right here for other readers to enjoy.
---
Like This Page?

Return From Ahalanui Park To Big Island Beaches