Mauna Kea Beach
Mauna Kea Beach is one of our favorite Hawaii Big Island beaches, picturesque and tranquil with fine white sand stretching for a quarter mile. Also known as Kauna'oa in Hawaiian, Mauna Kea is as perfect a beach as you'll find anywhere.
With a soft sandy bottom and shallow water, Kauna'oa Bay offers excellent swimming. It's a great place to play, explore, or just sit with your feet in the sand. The scenery is spectacular, with the south shore of Maui looming in the distance. We often spot spinner dolphins playing offshore and even whales on occasion.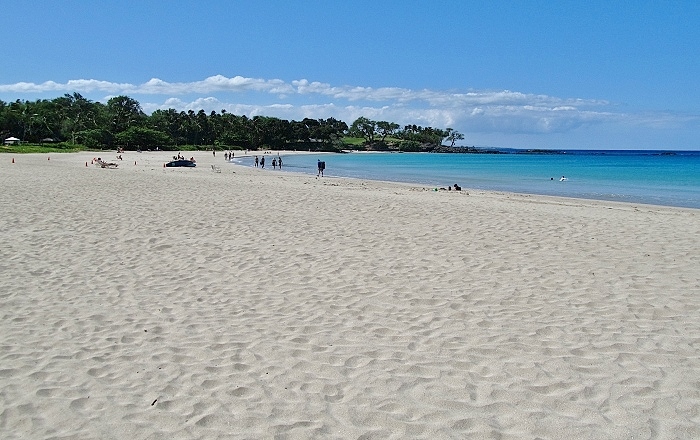 Even though it is adjacent to the Mauna Kea Beach Hotel, the beach itself is uncrowded. It probably has something to do with the fact that they don't allow more than 40 cars in to the beach parking area at one time!

There's a bar and restaurant right on the beach in case you need a little refreshment. The beautiful property is very well maintained with full facilities, including a lifeguard, outdoor showers and nice restrooms.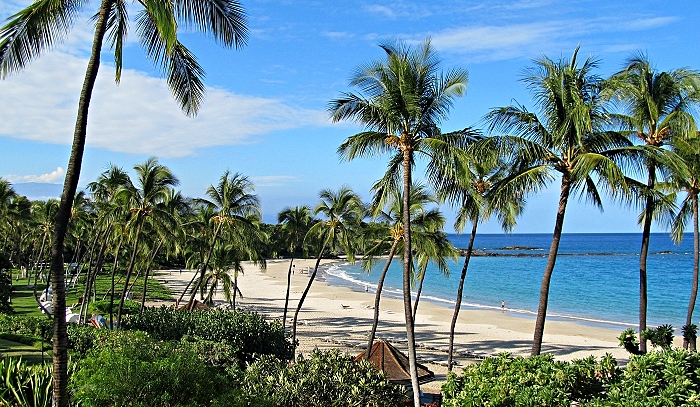 Mauna Kea is typically less windy than its neighbor to the south, Hapuna Beach. In addition to great swimming and snorkeling, the calm water in the bay is perfect for stand up paddle boarding. The water is stunningly clear. There are decent reefs for snorkeling along the rock outcroppings at either end of the beach. The reef at the northern (right) side of the beach may be a little more interesting, but because it is also more exposed it is most suitable for stronger swimmers.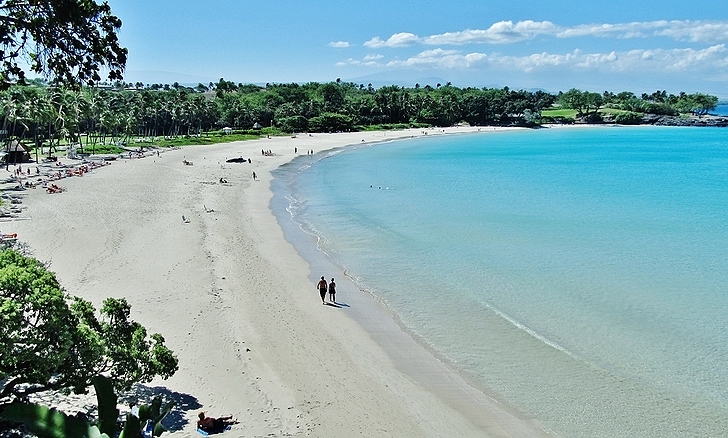 ---
More Beach Access Options
If you arrive after the lot is full, your options are to come back later, or drive south along Highway 19 one mile to Hapuna Beach. There is a delightful shoreline trail leading from the north end of Hapuna to Mauna Kea Beach. This is a fairly easy 3/4 mile walk along the shore with dramatic ocean vistas.

Mau'umae Beach
Another option if the lot is full: at the guard station ask about parking at Mau'umae Beach to the north instead. Mau'umae (pronounced mow-mai) is a delightful little gem with a small, soft-sand beach and very calm water. It's great if you want a more private and uncrowded beach experience. The water here is perfect for small children.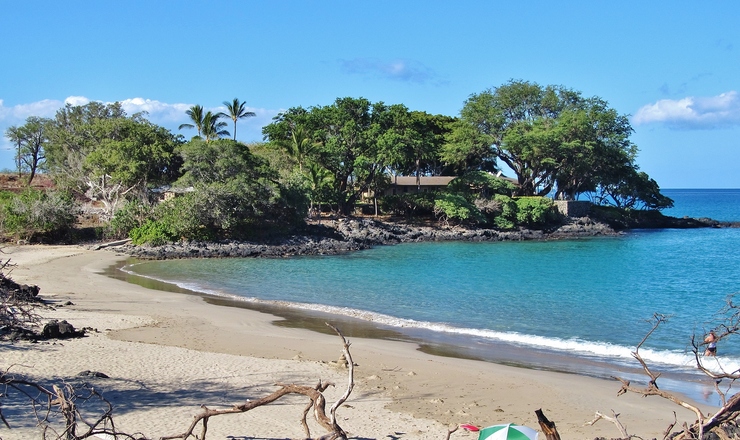 There is a one mile shoreline trail from Mau'umae Beach to Mauna Kea that takes you right past the 3rd hole on the Mauna Kea Golf Course. They generally only allow about 10 cars to park at Mau'umae but it is not as well known, so worth a try. Mau'umae Beach is also accessible from Spencer Beach.
---
Directions to Mauna Kea Beach
Mauna Kea/Kauna'oa Beach is 32 miles north of Kailua-Kona along the Kohala Coast near the 68 mile marker on Highway 19. Enter through the guard station at the entrance to the Mauna Kea Resort. Since they are serious about only allowing 40 cars into the parking lot at a time, its best to arrive before 9am, or early afternoon when the first wave is leaving.
Do you like Mauna Kea Beach? Tell your friends on Facebook!

What's your favorite Big Island beach? We're always curious what our readers have to say. 
Share your own story, maybe even a photo or two. We'll publish it right here for other readers to enjoy.
---
Like This Page?

Return from Mauna Kea/Kauna'oa Beach to Beaches Page

Return to Explore The Big Island Home Page