Weather in Kona

Weather in Kona is mild and predictable, generally consistent throughout the year. Sunny skies and warm temperatures are pretty much the norm for Kona weather, every month of the year. This is not to suggest that it doesn't rain. It does, just usually not for very long. And even when it does rain it is usually mild and pleasant enough to enjoy outdoor activities.
During September, the warmest month, the average high is 88°F (31°C), with lows averaging 73°F (23°C). During the coolest month of February, the average high is 82°F (28°C) with a low of 66°F (19°C). The highest recorded temperature was 95°F (35°C) in 1989 and the record low was 53°F (12°C) in 2003.
Current Kona Weather Forecast
On average there is very little rain in town, and even less along the beaches to the north. During the summer, average monthly rainfall in Kona is less than one inch. The driest month is June, averaging less than a half inch of rainfall. Even during January, the wettest month on average, less than two inches of rain falls.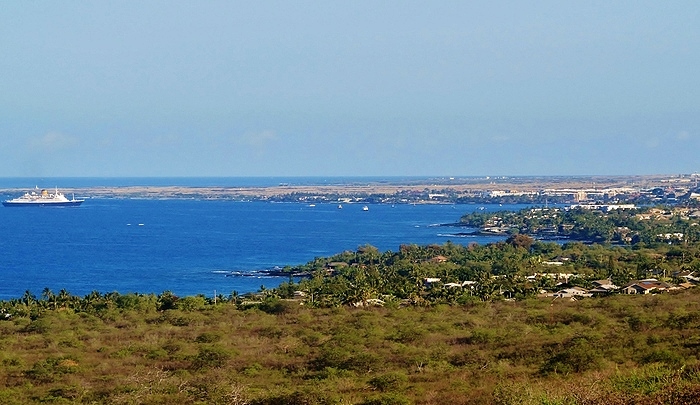 Kona weather patterns change very little from summer to winter, with plenty of sunshine even during those winter months when other parts of the country are cold and wet. As you travel north of town toward Waikoloa, the climate only gets better. There is typically far less cloud cover along the Kona-Kohala coast than you will find in town.
One of the indirect impacts on Kona weather is vog. Vog is the haze that is often seen hanging in the air over Hualalai like a heavy shroud, impacting visibility. Similar to smog, vog is produced from the eruption of the Kilauea volcano as the sulfur dioxide emissions mix with air, dust and water particles.
The prevailing winds push the vog more than 50 miles, accounting for a haze that is frequently seen in the sky around Kona and places south. Vog is generally even more prevalent in areas like Hualalai and Captain Cook. If you suffer from emphysema, asthma or have other heart or lung issues, you might consider consulting with your doctor before your visit.
Keep an eye on weather warnings and check the tides chart below to help plan your day at the beach. While trade winds help keep the temperatures mild, high surf advisories may indicate strong coastal winds. Be particularly alert when near the coast during high tide or high surf.

---
Like This Page?

Return from Weather In Kona to Hawaii Climate Page
Return from Weather In Kona to Explore The Big Island Home Page