Magic Sands Beach

at La'aloa Bay
Magic Sands Beach at La'aloa Bay south of Kona is home to a beautiful beach cove, known also as Disappearing Sands Beach, or White Sands Beach. Magic Sands is one of the nicer Kona Beaches, suitable for swimming, surfing, boogie boarding, even snorkeling and scuba diving.
Why magic or disappearing sands? The action of the surf here literally pulls the sand off the beach periodically, exposing the lava rocks that were buried by the sand. Later, as the surf subsides, the sand gets washed ashore and re-deposited.
This wave action serves as a sort of cleaning mechanism for the sand, keeping the beach brilliantly clean and white. There is an upper shelf that is almost always sandy. When the sand hasn't disappeared with the surf, this is the nicest of the Kona beaches.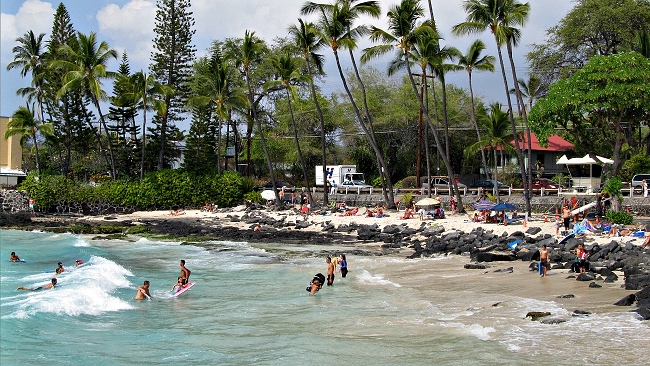 The swimming conditions at Magic Sands are generally quite good, particularly when the sand is covering the beach. Even during the winter months when the shoreline has more rocks exposed, there is a sandy bottom in the water.
A nice shore break creates some great waves when the surf is up, making La'aloa Bay another popular spot for boogie boarding and surfing. Crowds of people will often gather to relax on the beach and watch the waves roll in.
When the sand is being removed from the beach and rocks are exposed, there may be a strong rip current at work. Be aware of safety warnings and use extreme caution in or near the water when the sand is disappearing from Disappearing Sands Beach!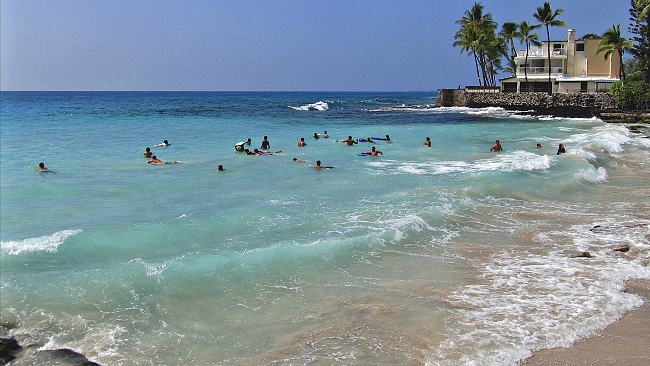 During low surf when the water is calm, snorkeling is good along the rocks on either end of the beach. Around the rocks to the south of La'aloa Bay is a small cove that's great for snorkeling or scuba diving, easy to access with beautiful areas of coral and interesting topography.
This beach is very popular and gets pretty busy. In addition to water activities, there is a volleyball net and lots of room to plant your own beach chair and umbrella.
Directions to Magic Sands Beach
La'aloa Bay/Magic Sands is just a short distance south of Pahoehoe Beach Park, north of the 4 mile marker on Ali'i Drive. Facilities include a lifeguard tower, toilets and outdoor showers.
What's your favorite Big Island beach? We're always curious what our readers have to say. 
Share your own story, maybe even a photo or two. We'll publish it right here for other readers to enjoy.
---
Like This Page?

Return from Magic Sands Beach to Big Island Hawaii Beaches
Return to Explore The Big Island Home Page