Kealakekua Bay

Kealakekua Bay is the largest deep water bay in Hawaii. It is also one of the most scenic areas on the Kona coast. The water clarity is stunning and the bay is blissfully calm.
Kealakekua is also a State Historical Park that marks the location of the first significant contact between Hawaiians and westerners. In 1779, British Captain James Cook and his ships, the Resolution and Discovery, first sighted Kealakekua Bay. The monument on the north end of the bay was erected in Cook's honor.
Kealakekua Bay and the underwater world around Captain Cook Monument are part of a marine sanctuary. This underwater natural playground offers some of the best Hawaii snorkeling. There is an extensive coral reef and an abundance of ocean life, particularly at the northern end of the bay near the monument. The coral reef is gorgeous, and extremely delicate.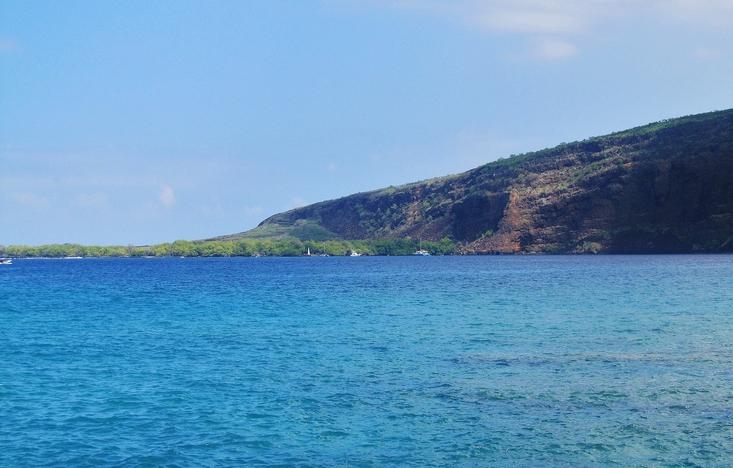 Travel in Kealakekua Bay
While commercial and non-commercial vessels (kayaks, etc.) are permitted to transit Kealakekua Bay, they must enter the bay from an outside location and must have a valid permit. Personal kayaks are no longer permitted to launch from the wharf at Napo'opo'o Beach Park or land at Ka'awaloa and the Captain Cook Monument.
Renting a kayak, canoe or paddleboard and paddling in on your own does not mean you can park your vessel and snorkel at the Captain Cook Monument. Because of the extremely delicate nature of the reef and the number of visitors to the bay, in order to launch from the pier at Napo'opo'o beach park and land at Ka'awaloa near the Captain Cook Monument, you must travel  with an authorized kayak tour company. There are 3 such companies at Napo'opo'o.
These regulations are necessary in order to help preserve the integrity of the delicate marine ecosystem. For more information visit Hawaii's State Parks - Kealakekua Bay.
Don't expect much of a beach at Napo'op'o as most of the sand was removed in 1992 by Hurricane Iniki. But it makes for a good launching point, and at certain times of the day, particularly early morning, you stand a good chance of spotting Spinner Dolphins as you paddle across the bay. Napo'op'o is also a good entry for Scuba diving.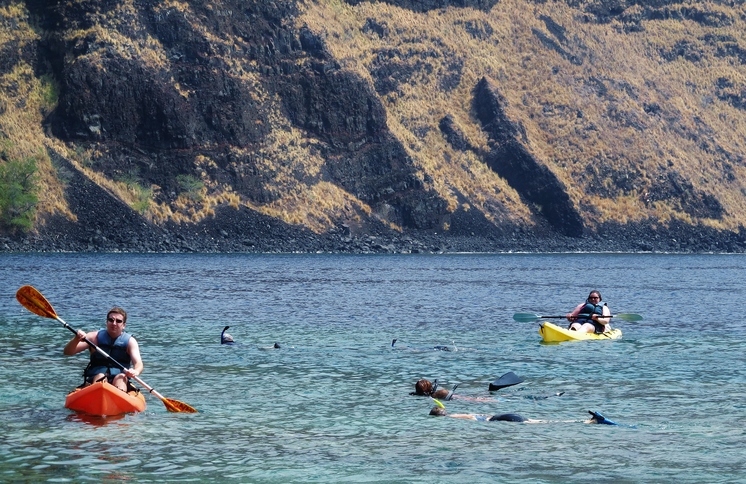 For the absolute best snorkeling and kayaking experience, we strongly recommend joining a tour. The tour companies have the necessary permits to bring guests to this fragile environment, with knowledgeable guides that have the experience and expertise to ensure that you have an idyllic underwater viewing experience.
A 4-5 hour Zodiac Raft and Snorkel Adventure brings guests in 16-passenger rigid-hull inflatable boats to snorkel in Kealakekua Bay. More personalized than many commercial tours, this trip follows the coastline from north of Kailua-Kona and explores sea caves along the way. All snorkeling equipment is provided, as well as beverages and a picnic snack.

If you prefer a deluxe catamaran for your snorkeling adventure, come aboard the Fair Wind, complete with its own waterslide! This tour includes a tropical breakfast and BBQ lunch on board the boat.

Hiking to Captain Cook - Best Big Island Hikes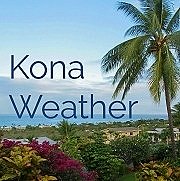 The best way to reach Kealakekua and the Captain Cook Monument, without having to hassle with permits or signing on with a tour, is a wonderful off-the-beaten-path hike from the top of Napo'opo'o road. This is one of our favorite Big Island hikes, a very scenic hike of about two miles (3k) each way. It is often very hot and dry, and can be particularly strenuous on the return. The trail is steep and very exposed. There is shade along the upper 1/3 of the trail as it drops through wooded pastureland before continuing steeply across ancient lava flow to the ocean.

Bring lots of water, more than you think you will need. If you plan to swim or snorkel in the bay, of course remember your mask and fins, and please use extreme caution when entering the water in order to avoid stepping on the fragile coral in the shallows.
To find the trailhead, turn off of Highway 11 toward the ocean onto Napo'op'o Road at the 111-mile marker south of Kona, then look for three palm trees on the left just after you start down Napo'opo'o Road. The trailhead is on the right side of the road. Look for a suitable place to park along either side of the road.
While Kealakekua Bay and the Captain Cook Monument can get crowded with locals and tourists, and in particular a couple of the tour boats, it is large enough for you to have plenty of room to explore the wonders beneath the sea.

Manini Beach Park
Just a short distance to the south is Manini Beach Park. Beautiful views, picnic tables, grass and plenty of shade make this a great picnic spot. It's almost never crowded, and there is a sandy ocean entry for more good snorkeling. It's fun to explore along the outcroppings of a'a lava that extend into Kealakekua Bay.

To get to Napo'opo'o and Manini Beach Park, drive south from Kona on Highway 11 past the 111-mile marker, then turn toward the ocean onto Napo'opo'o Road (State Highway 160). After about 3 miles (5k), stay right at the fork, continuing on Napo'opo'o Road until you reach the shore. Turn left on Pu'uhonua Road, then in 0.2 mile turn right onto Manini Beach Road.

Pu'uhonua o Honaunau
Since you're already in the area, you might want to continue just 3.5 miles farther south along City of Refuge Road to Pu'uhonua o Honaunau National Historical Park. In the bay adjacent to the Park you will find more great Hawaii Big Island snorkeling and diving next to Two Step.

---
Like This Page?

Return from Kealakekua Bay to Snorkeling Big Island
Return to Explore The Big Island Home Page