About Us


Our Hawaii Big Island Travel Guide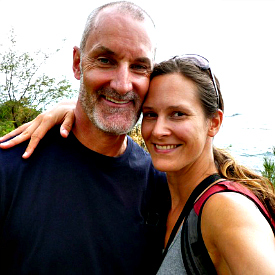 Aloha! We are excited to share our Hawaii Big Island travel guide, and invite you to join us as we explore the Big Island. We hope you find our website to be a valuable resource. It is designed to be an interactive experience, so we encourage you to share your own experiences so that other visitors can benefit. Use it as your own personal guide, whether you are already on the island or planning your next vacation.
As avid travelers and adventurers, it was only natural that we would eventually make it to Hawaii. The Big Island has a diversity of land and ocean features that is unparalleled. The west coast of the Big Island also has more sunshine than any other part of Hawaii, and I must admit we were both desperate to escape the perpetual gray of the Pacific northwest! But with so much to explore, we realized soon after arriving in early 2011 that we would need to live here in order to truly experience the entire island. And so we stayed.
Having both recently sold our respective businesses, we decided to embark on a new venture (and adventure!) as business partners. As we were exploring the Big Island and brainstorming ideas for our next enterprise, an idea began to take shape. What better way to share our experience and help other travelers plan the perfect vacation than a website dedicated to all things Hawaii? And more specifically, a detailed and comprehensive guide to the Big Island that we have come to know and love.
We have explored the Big Island extensively and continue to research new opportunities. We are excited to share all its wonders and will help you plan your perfect Hawaii vacation. It is our hope that by sharing our insights, knowledge, passion and excitement for the Big Island through this website, your own experience in Hawaii will be all the more rewarding.
Each island has its own unique character and charm. In fact, different parts of the Big Island itself have their own slightly different feel. Some places you will love and never want to leave, while others may challenge you. With a week or even a month, you can't possibly see it all. So use this website as an insider's guide, helping you choose the attractions and adventures most suitable for your particular style. Consider it your own Hawaii Big Island travel guide.
Today we split our time between Hawaii and the U.S. mainland, but the Big Island is home. We enjoy returning frequently to some of our favorite places and always seek out new adventures, new restaurants, and new places to stay in order to keep the website fresh and current. We update our blog regularly to bring you the latest happenings in Hawaii and updates on our site.
We also rely on input from you, our visitors. Please take advantage of the various pages that invite reader feedback and share your own experiences. Questions or comments? Contact us!
Thank you for joining us! We hope you come back often.
Mahalo,
Jen and Jay


---